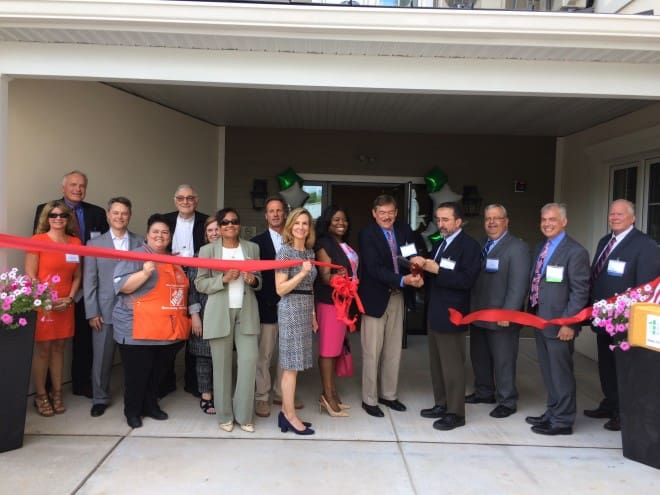 Veteran Housing Project in ChesCo Opens
by Mission First Housing
Historic Whitehall Inn converted into 48 apartments for Chester County Veterans
Spring City, PA— On June 14, 2017, Mission First Housing Group officially opened The Whitehall Apartments at 3795 Schuylkill Road, Spring City, PA. The Whitehall Apartments includes 48 permanent supportive housing apartments for veterans in need.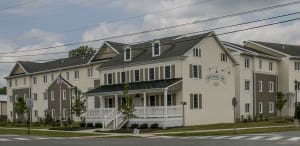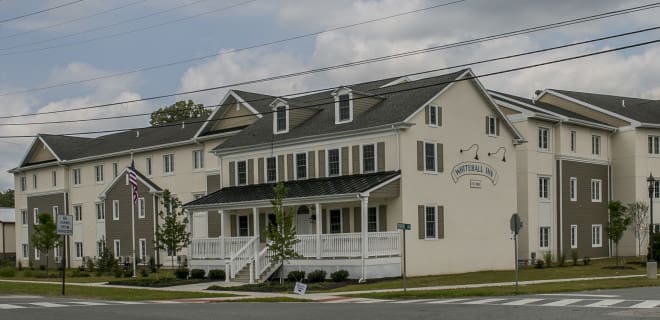 "Today, we are not only providing a place to live for veterans in Chester County, but also giving them hope for the future," said Mission First's Chief Executive Officer Alfredo de la Peña as he welcomed more than 100 project partners and community members to explore the organization's first large-scale veterans-only housing development. He added, "We also believe that it's our duty to ensure that our residents have access to the services and support to allow them to live independently."
The following community and business partners spoke about The Whitehall Apartments' importance in the light of the local need for veteran's housing and the national effort to end veterans' homelessness: Nancy Twyman, Director of the Eastern Region, Pennsylvania Housing Finance Agency; Major General (Ret) Eric Weller, Deputy Adjutant General-Veterans Affairs, PA Department of Military and Veterans Affairs; Michelle Kichline, Chair of County Commissioners, Chester County; Dale Gravett, Executive Director, Housing Authority of Chester County; Monica Hawkins, Director of Public Housing, Department of Housing and Urban Development; Patrick Bokovitz, Director, Community Development, Chester County; Mark Dunphy, Chairman, Board of Supervisors, East Vincent Township; Rick Slagle, Senior Vice President, Riverside Capital LLC; David Buches, Community Investment Manager, Federal Home Loan Bank of Pittsburgh; Catherine Harrison, The Home Depot and Rev. Donato P. Silveri, St. Joseph Roman Catholic Church of Spring City, PA.
"Mission First did a terrific job on these apartments, and what is equally impressive is their attention to supportive services that will help the veterans living here to maintain their independence," said Brian Hudson, Sr. Executive Director & CEO of the Pennsylvania Housing Finance Agency. "We commend Mission First on this quality affordable housing, and we're pleased PHFA could be a part of this effort."
As part of the project, Mission First renovated the existing historic Whitehall Inn and constructed a new addition. The Whitehall Apartments were built using voluntary passive house design standards for energy efficiency. This design will reduce utility usage by 80% over standard usage.
Residents of The Whitehall Apartments have access to comprehensive support services provided by the Coatesville VA Medical Center and a full-time resident services manager through Mission First's resident services department. An on-site property manager and live-in superintendent through Columbus Property Management, a member of Mission First Housing Group, will manage the property. Onsite amenities include a community room, fitness center and computer room, and laundry facilities.
Planning for the Whitehall began in the summer of 2012, when Mission First met with representatives of the Veterans Administration (VA), Chester County Department of Community Development and Housing Authority of Chester County to discuss the development of veterans housing in Chester County. The VA indicated that the limited supply of affordable housing units in the County was preventing the veterans it serves from securing safe, stable and affordable housing. The VA also indicated that many veterans prefer to live in the company of other veterans who have shared similar life experiences.
"Housing Authority Chairman Pat Bokovitz and I have made it a priority to do everything possible to put an end to veteran homelessness in Chester County," said Gravett. "The Whitehall development is a shining example of how collaboration among multiple partners can make this a reality."
The funding for The Whitehall Apartments comes from the Pennsylvania Housing Finance Agency, Riverside Capital Equity Partners, the Housing Authority of Chester County, Citizens Bank, Federal Home Loan Bank of Pittsburgh, The Home Depot Foundation, Phoenixville Community Health Foundation, U.S. Department of Housing and Urban Development and U.S. Department of Veteran Affairs.
---
Click here to find out how to support the residents of The Whitehall Apartments.
---
Posted Under: News, Press Releases