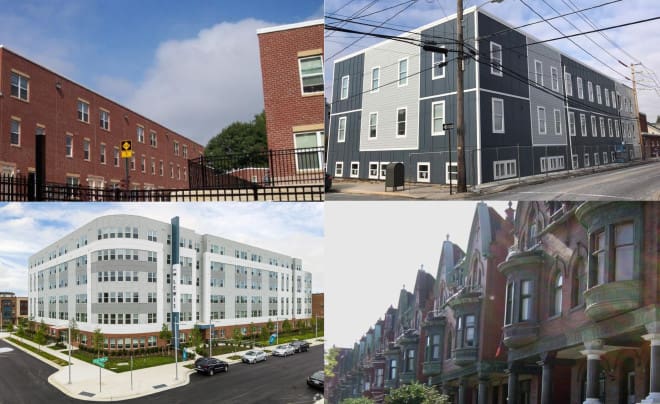 We Accomplished So Much in 2022
by Mission First Housing
Mission First Housing Group had a busy year in 2022. We completed four major affordable housing projects creating and preserving a total of more than 300 apartments to ensure our neighbors had a place to call home.
In spring, the renovation of Park Place Apartments in Elizabethtown, PA was complete. Park Place consists of 32 apartments and is one of the few affordable housing resources in Elizabethtown, housing some of the most vulnerable residents in the community. Mission First acquired Park Place Apartments as part of a multi-property portfolio in York and Lancaster Counties in 2018. The renovations to the individual apartments, common areas and exterior provide existing residents with upgraded apartment amenities, and energy efficient upgrades creating a more sustainable living environment.
We also welcomed our first residents to The Lewis Apartments – a brand-new 137-apartment senior community in Suitland, MD – in spring. In partnership, Mission First, The Henson Development Company and the L.A. Bolden Company responded to the Prince George's County Redevelopment Authority (RDA) RFP in August of 2016 and were selected to develop the building. This six-story building is part of a vibrant pedestrian-oriented neighborhood created through the Towne Square at Suitland Federal Center redevelopment, an initiative of the RDA that includes townhouses, retail and residential development. Our new residents are settling in nicely and happy for the opportunity to live in high-quality, affordable and accessible housing.
This past fall, Mission First completed the historic preservation and renovation of the Parkside Neighborhood Preservation (Parkside) project consisting of 82 affordable apartments in 16 buildings located along Parkside Avenue, a highly visible corridor in West Philadelphia directly across from Memorial Hall in Fairmount Park. Parkside provides housing to some of Philadelphia's most vulnerable residents including individuals who are formerly homeless, living with serious mental illness or physically disabled. Reinvesting in Parkside is critical so that the property can continue to play its role in the City of Philadelphia's Continuum of Care homeless assistance system providing permanent housing integrated into the community. The property was out of the 15-year tax credit compliance period, and the buildings needed a refresh, having first been built in the late 1800s and last renovated in 2001-2003. A key component of Mission First's work is the preservation of affordable housing assets, and we are glad to be able to continue to offer safe, affordable and sustainable housing at Parkside.
Rounding out the end of the year, the renovation of the apartments at Monument Village was complete in December. Mission First, with its development and supportive service partner Methodist Home for Children, renovated this 60-apartment affordable housing development in the Wynnefield Heights neighborhood of West Philadelphia. The preservation and renovation of this property was a priority for Mission First to ensure its long-term affordability. All apartments have Project-Based Section 8 subsidies from the Philadelphia Housing Authority and are occupied by formerly homeless individuals and families. Today, Monument Village is a thriving community, serving individuals and families with comprehensive social services which foster independence and self-sufficiency in a caring community setting.
2022 was a great year for Mission First and its residents. We are proud to be a mission-driven affordable housing developer that can offer opportunities to those in need.
Posted Under: News