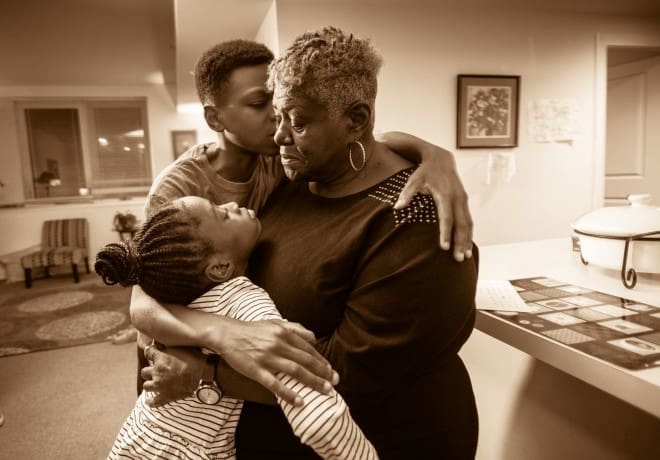 The Rise of the Grandfamily
by Mission First Housing
A D.C. housing development serves as a refuge for grandparents raising young children. Is it a model for the rest of the country?
Story by Andrew L. Yarrow, Washington Post
It's a few days after Christmas, and Akirah Carter is sitting in her living room, still wearing her Santa-and-reindeer-patterned pajamas and pointed elf slippers as she tinkers with her gifts: a PlayStation 4, a magic set, Harry Potter books. On the kitchen counter sits a plate of snickerdoodles the 10-year-old baked with her grandmother. She spent Christmas Eve at her great-uncle's house in Bowie, Md., playing games with her family and singing "Santa Claus Is Coming to Town" on a karaoke machine. That night, after returning home, she left out a few cookies and a glass of milk for Santa.
"She knows there's no Santa," says Akirah's grandmother Tonya Carter, 58. "But she still puts out cookies for me."
For the past eight years, Carter has served as Akirah's Santa. Akirah can't remember a Christmas with her parents. Her mother has drifted in and out of homeless shelters and is now in South Carolina, and her father — who sees her every other weekend — lives miles away and can't care for her on his own. So Akirah lives full time with her grandmother in Plaza West, a brand-new apartment building in Washington's Mount Vernon Triangle neighborhood built especially with families like hers in mind.
Click here to read the rest of the article.
Photo credit: André Chung, Washington Post
Posted Under: Mission First In The News, News