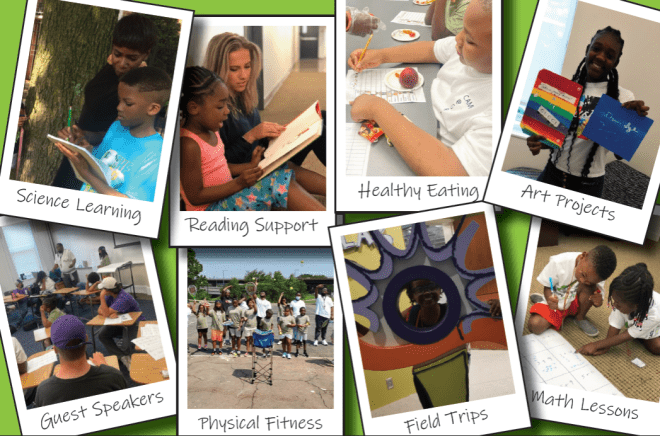 Mission First Housing Group's Camp Upward
by Mission First Housing
Support an enriching program to help DC children this summer. Let's keep them moving upward!
---
Summer programs are still out of reach for too many children. Help families in  access the quality, engaging and fun summer programming that their kids deserve! Give to Camp Upward!

Camp Upward offers summer youth programs that create a positive, safe place for children to gain academic enrichment, build healthy relationships, increase socialization skills and improve their physical health. The six-week program is specially designed for youth residents, ages 5-13, of Mission First's affordable housing communities in the Mount Vernon Triangle Neighborhood of Northwest Washington, DC.
Support from people like you helps provide field trips, recreational activities and so much more. Make your gift today!

---
More testimonials from campers:
"I liked camp. It was really fun– like all the stuff we got to do in summer. We went to the pool and had a lot of fun outside. I'm going to sign up again." -Zaivyon, age 8
"Camp was cool last year. We didn't have to be home all summer and actually had stuff to do to keep us busy. Most of my friends were there too, so it made it more fun. I liked the field trips and activities too." Damoni, age 12
"The staff at the camp were really cool. I liked the stuff they had planned for us and they made sure that we had fun and weren't bored. It was really nice." Iyana, age 10
---
We need your help to provide high quality summer programming for DC children! Giving to Camp Upward ensures our young residents have the resources and skills they need to avoid summer reading loss, stay healthy and have a fun-filled summer.
$10 covers metro fare for two campers to travel to and from a local field trip site.
$25 covers cost for Summer Success Reading Curriculum for one camper.
$50 helps pay for one day of swimming for all campers.
$100 covers transportation costs for all campers for one field trip.
$250 pays for daily healthy snacks for all campers.
Sponsor a camper! For $750 you can cover the cost for one camper to attend Camp Upward.

You can also mail a donation payable to Mission First Housing Group to Support Camp Upward, c/o Golden Rule Apartments Resident Services, 901 New Jersey Avenue Northwest, Washington, DC 20001.
---
Do you have questions or other ideas about how to help? Please contact our Resident Services team at (202) 549-4418.
Posted Under: News