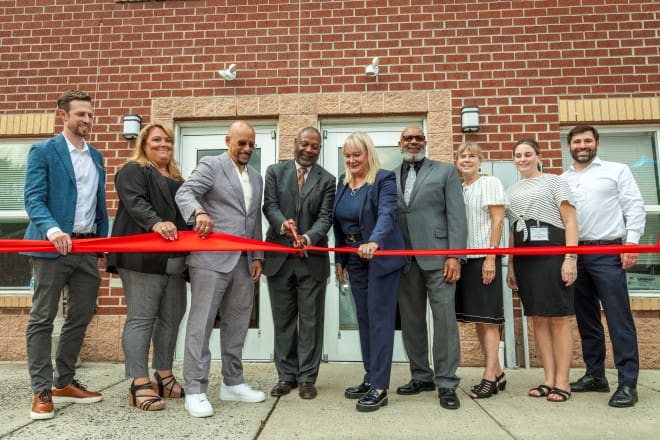 Senator Hughes and PHFA Director Wiessmann Celebrate the Grand Re-Opening of Monument Village
by Mission First Housing
oday, The Honorable Vincent J. Hughes, Pennsylvania State Senator 7th District, and Robin Wiessmann, Executive Director and Chief Executive Officer of the Pennsylvania Housing Finance Agency, joined Mission First Housing Group and Methodist Services for the Grand Re-Opening and Ribbon Cutting Ceremony of Monument Village at 4101 Edgely Road, Philadelphia, PA.
Mission First and Methodist Services completed 18 months of rehabilitation work at Monument Village, a 60-apartment affordable housing development in the Wynnefield Heights neighborhood of West Philadelphia.
"PHFA is pleased to have played a part in funding the renovation and reopening of Monument Village," said Wiessmann. "At a time when affordable housing is in great demand, we applaud Methodist Services and Mission First for their updates to this property and for keeping the rents affordable."
The preservation and renovation of this property was a priority for Mission First and Methodist Services to ensure its long-term affordability for the formerly unhoused individuals and families who live there. Given the widespread shortage in affordable housing in Philadelphia, the need to preserve what is already designated as affordable housing is just as important as adding more housing stock.
"Preservation ensures the longevity of affordable housing assets – it benefits current residents by providing a sustainable place to live and supports the community in its efforts to keep its neighbors in their homes. This work is critical to our mission" said Queenan. "We are glad to have partnered with Methodist Services many years ago to ensure safe, affordable housing with services support in West Philadelphia."
Methodist Services came together with Mission First in 2000 and created a plan to add affordable housing to their 22-acre campus situated on the edge of Fairmount Park. In 2004, the partners opened a five-building affordable housing community for homeless individuals and families straight from the shelter system, with access to Methodist Services' case management, childcare and behavioral health services fostering educational advancement, employment and other means of self–sufficiency. In 2019, the team came together again to refinance the project, ensuring the long-range affordability of the property and making necessary upgrades to the buildings.
"Methodist Services was thrilled to partner with Mission First on this project and continues to strategically plan for families in Philadelphia," said Martin. "Monument Village offers attractive, affordable homes in townhouse style units to families who have experienced homelessness, through funding from HUD. Here, families are encouraged to pursue educational advancement, employment and other means of self-sufficiency while living in a wonderful community, with the ultimate goal of becoming independent."
The refinancing of this project provided extensive renovations to the interior and exterior of the buildings. The exteriors received all-new windows and roofs, along with a repaved parking lot. Inside, all-new HVAC systems and new hot water heaters were installed. Units received new kitchen cabinets and appliances, bathroom upgrades, and new paint and flooring. The community and laundry rooms were reconfigured to add a new property management office on-site to better serve residents.
The total development cost of the project is approximately $16 million. The project was awarded $1,500,000 from the City of Philadelphia, $2,000,000 in Affordable Housing Program funds from the Federal Home Loan Bank of New York and $500,000 from the Federal Home Loan Bank of Pittsburgh. Additional funding sources include assumed Philadelphia Redevelopment Authority debt, a conventional mortgage, and the syndication of 4% Low Income Housing Tax Credits. All units have Project-Based Section 8 subsidies from the Philadelphia Housing Authority.
Monument Village is a thriving community, serving individuals and families with comprehensive social services which foster independence and self-sufficiency in a caring community setting. The residents are very pleased with the updates to the building, and Mission First and Methodist Services are happy to continue contributing to this important affordable housing resource for those in need for many years to come.
Posted Under: News