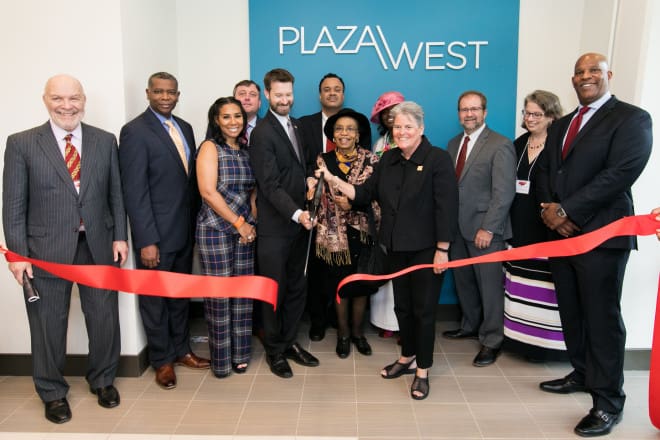 Grand Opening of 223-unit Intergenerational Housing Community in Mount Vernon Triangle – 50 units for Grandfamilies
by Mission First Housing
On Friday, September 14, 2018, The Honorable Charles Allen, Councilmember of Ward 6, Polly Donaldson of the DC Department of Housing and Community Development, Tyrone Garrett of the DC Housing Authority and Todd A. Lee of the DC Housing Finance Agency joined Mission First Housing Group for the opening of Plaza West, a 12-story, 223-unit affordable housing community in the Mount Vernon Triangle neighborhood of Washington, DC.
Mission First, in partnership with Golden Rule Plaza Inc., a nonprofit subsidiary of Bible Way Church, and the Henson Development Company, built Plaza West at the northeast corner of 4th and K Streets NW. The development consists of two components: 173 units provide affordable housing for individuals and families, with eleven units set aside as permanent supportive housing for Department of Behavioral Health consumers; and 50 two and three bedroom units set aside for "grandfamilies" – grandparents raising grandchildren where the parent is not present. Plaza West's grandfamily residential housing is the first of its kind in The District, joining only nine other U.S. cities with such a program.
"Plaza West will help meet a critical need for affordable housing in an area with low vacancy rates and a scarcity of affordable units," said Sarah Constant, managing director for Mission First Housing Group. "Along with intergenerational housing to fit resident needs, Plaza West offers a unique support services model providing resources for success in school, work and the community."
Support services are available to all individuals and families through Mission First's Resident Services Department. A more extensive program, the Plaza West Community Life Program, is available for grandfamilies. The first The Plaza West Community Life Program provides case management services to address social services needs by referral and follow-up to community educational, health and welfare resources. The program also offers a wide range of on-site programs designed to nurture the healthy development of children and youth living on site and help grandparents meet the challenge of parenting for the second time around. The Plaza West design and programming is intended to create a grandfamily residential community that is rich with activities, on-site resources and connections to services on-site and in the neighborhood and city at large.
"Plaza West provides a community of support for stronger families, stronger grandfamilies," said Cassandra Gentry, resident of Plaza West raising her 12-year-old grandson and 8-year-old great-granddaughter. She states she is most excited that the children will be living amongst other children raised by their grandparents, offering an environment where grandfamilies are the norm rather than the exception.
This $90 million development project is financed with tax-exempt bonds issued by DC Housing Finance Agency and 4% Low Income Housing Tax Credits. Citibank purchased the tax-exempt bonds and provided construction and permanent financing. Capital One was the end investor on tax credits syndicated through Enterprise Community Partners. The DC Department of Housing and Community Development and the DC Department of Behavioral Health provided gap financing for the project, and the Office of the Deputy Mayor for Planning and Economic Development provided NIF (Neighborhood Investment Fund) financing.
Posted Under: Press Releases, Special Events