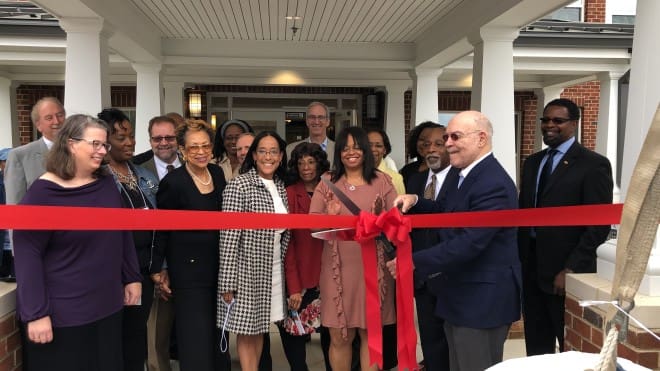 Ribbon-Cutting Ceremony for The Belnor Senior Residences in Suitland
by Mission First Housing
Affordable Senior Housing Now Open in Prince George's County
On Friday, April 12, 2019, Mission First Housing Group was joined by Councilman Rodney Streeter, District 7, Prince George's County; Ed Barnett, MD Community Development Administration Department of Housing and Community Development; Raymond Gilley, Deputy Chief Administrative Officer, Economic Development; Patricia Lindsey, Suitland Civic Association; Elsie Jacobs, Suitland Action Team; Gloria G. Lawlah, White Rose Foundation; Kimmel Cameron, Hudson Housing Capital; Ed Delany, Capital One Bank; Daniel P. Henson, III, The Henson Development Company; and Lisa A. Bolden, L.A. Bolden Company to open The Belnor Senior Residences, 3800 St. Barnabas Road, Suitland, MD.
The 4-story building is well situated along St. Barnabas Road with excellent accessibility to nearby shopping and transit, while backing up to a wooded area and stream.  Green design features include Energy Star appliances, efficient individual HVAC units and low VOC materials for improved indoor air quality. Amenities include a two-story club room, library, fitness center, putting green, community garden and greenhouse.
The development was financed using a HUD 221(d)4 loan through AGM Financial with Wells Fargo; Maryland CDA Tax Exempt Bond Financing in coordination with Stifel; CDA Rental Housing Works; Prince George's County DHCD HOME funding and PILOT; San Francisco FHLB AHP grant and low income housing tax credit equity through Hudson Housing Capital, with Capital One as the investor.
The project was developed in partnership with the L.A. Bolden Company and The Henson Development Company.
Posted Under: Press Releases