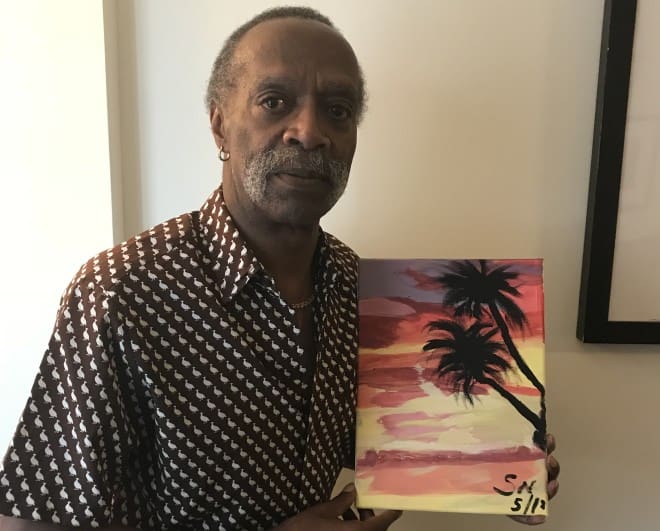 Resident Story: Stephen Nelson
by Mission First Housing
(PHOTO: Visionary Square Resident Stephen Nelson holding a painting he made during a resident services event led by Resident Services Coordinator Pamela Graves)
Stephen Nelson has always been fascinated by people. As a young boy growing up near Detroit in the 1950s and '60s, he liked to watch people, noticing the things they said and the way they carried themselves. He also loved school from a young age, especially sociology and psychology. But he grew up in a large family with six brothers and seven sisters and often felt lost, confused that so few people seemed to "mean what they say and say what they mean." In his teens he became addicted to alcohol and drugs, and left his parents' house. He said of his life at that time, "I forgot that I wasn't superman and that was the problem. Before I knew it I was hooked. It was like having a brand new Cadillac back in those days with no motor in it. It looked good but it wasn't going anywhere." But one day, after struggling with addiction and homelessness, he woke up and said to himself, "'I can't do this.' I had no place to go. I could no longer run from Stephen. I had to face the reality I was not having fun."
Newly clean and sober with few prospects for a job or housing, Stephen joined the Army and was in active combat in Vietnam. While serving, Stephen relapsed and began drinking and using drugs again. Stephen left the Army after seven years of service and lived in Washington, DC, working as a chaplain with Mitch Snyder, a prominent activist and advocate for the homeless. After a few years he moved to Santa Cruz, California, where he started volunteering at the Homeless Services Center. He worked countless volunteer hours at the center and eventually he became part of the staff. He then worked his way up to becoming the Community Service Coordinator for the shelter, earning many awards and accolades along the way. In 2013 he was awarded the University of California Santa Cruz Tony Hill Award, which recognizes local Santa Cruz residents for their work in the community. The award also recognized the more than 20,000 service hours that Stephen and his team of homeless volunteers logged around Santa Cruz.
A few years after winning the award, Stephen retired from the shelter and moved back to Washington, DC. He had enjoyed living in California, but wanted to be back in the city where he had started his work so many years ago with Mitch Snyder. Unfortunately, despite his many years at the shelter and his earlier work for other nonprofits, Stephen didn't have any retirement savings and soon found himself homeless. He was living in a park in Northeast Washington, DC, and one day passed by a partially constructed building.
"I was walking past one day and it was empty, big X's on the window. So I came over and saw the application on the window and that it would be opening soon, so I did some investigation through the housing authority. They gave me an application and my case manager helped me fill it out. They told me what I needed to make it possible for me to apply and finally they called me and said 'Hey, you made it, you're going to move in!' and that's how it started."
That building was Visionary Square, a four story, 47 unit affordable housing development for seniors, and Stephen Nelson was one of the building's first residents. He's lived there ever since, always committed to helping his community. Now he wakes up early every morning to open Visionary Square's community room at 7 and closes it at 5. He also makes sure no one accidentally leaves any clothes in the laundry room and picks up any litter he sees in or around the building. He also helps Resident Service Coordinator Pamela Graves set up for resident events like movie nights and bingo. Stephen is always encouraging community and interaction between his neighbors. "Visionary Square is home for us," he said. "For a lot of 'us.'" Stephen is a firm believer that there are "no bad people, just bad choices," and sees Visionary Square as "a perfect prototype for the betterment of those who have fallen short."
After many years of working to help others, Stephen now has a comfortable, safe and affordable place to call his own. "I've always known how to take care of others by working at and running a shelter, but I never knew how to take care of me." Visionary Square has provided Stephen with the stability and independence to do just that.
"There's good people in Visionary Square, people who want us to have the best, who believe in us. And we just have to believe in ourselves."
Posted Under: Stories