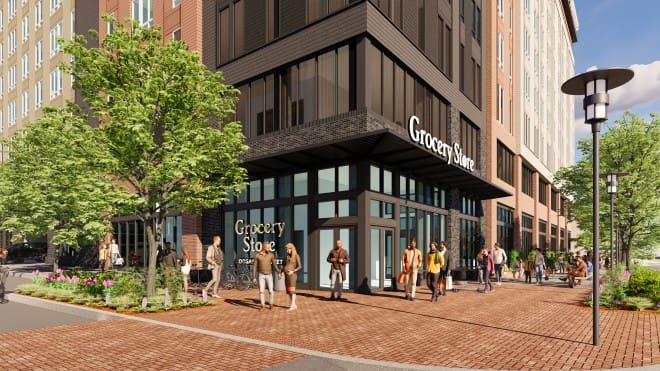 National grocery chain to open store in food desert near Johns Hopkins Hospital
by Mission First Housing
A national grocery chain has inked a long-sought deal to open a store in East Baltimore by 2025.
The deal with the yet-to-be identified chain was signed this winter by Henson Development Co. and will bring a 35,000-square-foot market to the food desert of Orleans Street and Central Avenue, according to Dana Henson, principal of Henson. The store will anchor an eight-story, 190-unit apartment tower expected to break ground next year, she added.
The tower is planned to be the fourth building in a complex that will replace the Somerset Homes public housing project that was razed in 2009. It is also a component of a $1 billion redo of the 250-acre area that will remake the Perkins Homes, Somerset and Oldtown footprints into a modern community with new mixed-income housing, public parks and retail and office space. That project, the Perkins-Somerset-Old Town Transformation Plan, kicked off three years ago.
The Henson Development Co. is redeveloping the Somerset site in partnership with the Mission First Housing Group. The development firm was founded by Daniel P. Henson III, a former Baltimore housing commissioner who also headed the Housing Authority of Baltimore City under the administration of Mayor Kurt L. Schmoke.
Click here to read the full story.
Posted Under: Mission First In The News