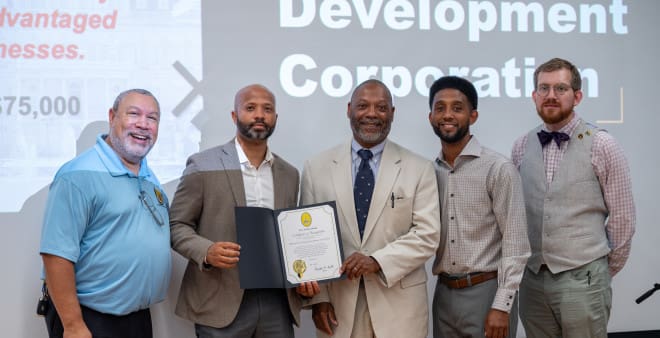 Mission First Receives $75,000 from DCHD to Support Community Involvement in Perkins Somerset Oldtown Transformation Initiatives
by Mission First Housing
Mission First Housing Group is excited to announce it has been awarded a $75,000 grant by the City of Baltimore Department of Housing and Community Development (DHCD)'s 2023 Community Catalyst Grant (CCG) Round 3 Operating Grants program. The funding will support personnel, consultants and marketing related to Mission First's community development initiatives as part of the Perkins Somerset Oldtown (PSO) Transformation Plan.
The goal of the CCG program is to focus resources in neighborhoods where revitalization is community-driven, residents and stakeholders benefit directly from investment and where City dollars can have an impact.
Mission First, and its partner The Henson Development Company, are undertaking an extensive redevelopment of the former Somerset Homes and Old Town Mall neighborhoods – as part of the PSO – constructing over 560 apartments across six properties as well as adding retail and community entertainment space to the neighborhood. This project will create a new and vibrant mixed-income community to an area that has historically suffered from a lack of investment, concentrated poverty, high crime and under-performing schools.
"The CCG will further our mission to support residents and strengthen communities," said Thomas Queenan, Chief Executive Officer for Mission First. "This funding provides us with opportunities for the community members to participate in economic benefit of the PSO plan beyond housing resulting in an informed revitalization of the community."
Creating a robust corridor requires participation from a wide range of stakeholders. The funds from the CCG will fund the hiring of a consultant to work with Mission First to design a strategic plan with the goal to create more equitable outcomes for residents through the redevelopment, such as providing job opportunities and increased provision of goods and services.
Part of this work requires Mission First to embark on a six-month planning process to engage neighborhood stakeholders to co-create realistic yet aspirational strategies by providing them with information about planned development and allowing them to provide feedback and be active in the strategy. Mission First will seek to partner with minority-owned businesses and individuals historically unable to participate in economic benefits resulting from large scale revitalization plans.
For more information on Mission First's work on the PSO Transformation plan, visit SomersetBaltimore.com.
Posted Under: News