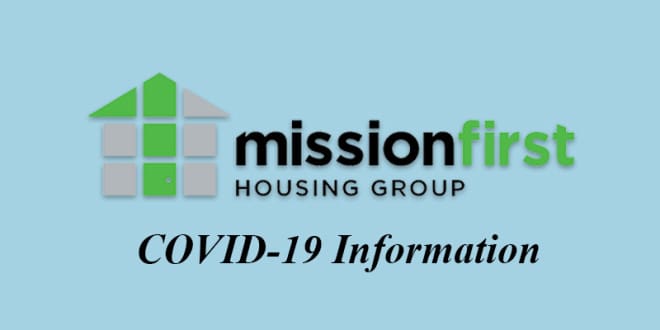 Mission First COVID-19 Information
by Mission First Housing
Philadelphia, PA – Mission First Housing Group (Mission First) has developed a plan to monitor and evaluate the risk of the COVID-19 (Coronavirus) disease pandemic to our staff, partners, clients and the 5,500 residents we house. Along with our affiliates Columbus Property Management (CPM), ACHIEVEability and Philadelphia Council for Community Advancement (PCCA), our number one priority is to protect the health and safety of our residents, clients and employees and to limit the impact and risk of exposure. We are following guidelines established by the Centers for Disease Control and Prevention (CDC), as well as protocols issued by state and local public health officials.
Mission First has established a COVID-19 Committee that meets daily to assess new developments across the organization's operations in Pennsylvania, New Jersey, Delaware, Maryland and District of Columbia and to implement appropriate safety measures aimed at minimizing risk for residents and staff.
Effective immediately, all Mission First offices are closed to the public. Mission First will perform essential activities only during this time, and we have identified a significant portion of our workforce that will work remotely. This is in keeping with guidance issued by CDC and local health departments related to "social distancing" and "flattening the curve" of disease spread. Essential staff working in offices and in our resident communities will follow safety protocols established by the CDC.
Our plan in dealing with the impact of COVID-19 will allow us to continue to serve our residents, clients and partners. As local developments are changing rapidly, Mission First is reassessing protocol on a daily basis and will implement additional measures as needed. We'll continue to communicate updates to these stakeholders as modifications take place.
We will post any further updates on our website and on social media.
We thank you for your patience as we navigate this unprecedented time. We will get through this together.
---
Click here for the statement by Columbus Property Management, our property management and resident services affiliate.
Posted Under: News, Press Releases