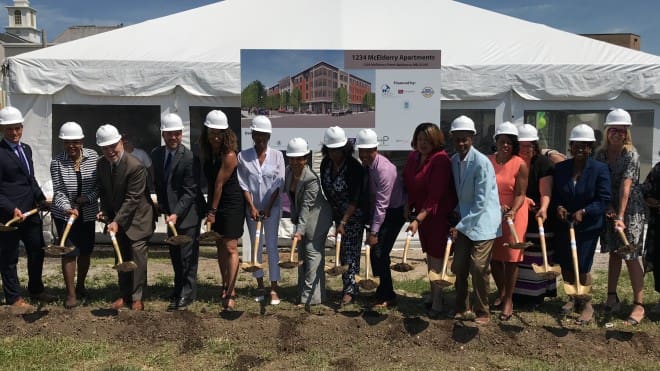 Mission First Broke Ground in Baltimore! 1234 McElderry Apts: The First Phase in Perkins Somerset Old Town Transformation
by Mission First Housing
On July 17th, Mission First Housing Group and its partners, Henson Development Company and the Housing Authority of Baltimore City, joined with Mayor Bernard (Jack) Young and other public officials to celebrate the groundbreaking of 1234 McElderry Apartments, the first phase of the PSO Transformation Plan.
The PSO Transformation Plan takes place across two Baltimore communities: the current site of Perkins Homes, located minutes from Downtown Baltimore and the thriving Fells Point waterfront, and the Somerset Homes/Old Town neighborhood to the north. 1,345 new apartments as well as construction of a new elementary school and grocery store are included in the Plan, along with development of two new parks and updates to existing parks and recreation spaces. The Plan is designed to create a diverse community that will enable current and new residents to live in economically integrated, high-quality housing with exceptional amenities and was made possible by a $30 million HUD Choice Neighborhoods grant. More than $800 million of public and private investment will be leveraged in the neighborhood.
"It's hard to overstate the significance of this day," said Housing Authority of Baltimore City Executive Director Janet Abrahams. "By putting these first shovels in the ground we are taking the first step toward ensuring that the low-income families, disabled citizens and veterans we serve live in quality homes in thriving neighborhoods."
Mission First, along with development partner The Henson Development Co., will lead development for the Somerset section of the project, which will include 1234 McElderry Apartments and ultimately provide 396 affordable and 161 market rate apartments. The Somerset portion of the project plan also includes a central park and retail, featuring a grocery store.
1234 McElderry Apartments is a 104-apartment, mixed-income rental property that will include approximately 2,400 square feet of ground floor retail and parking. The four-story building will include 92 parking spots and amenities including a fitness center, club room, cyber lounge and two courtyards. Total development cost for 1234 McElderry Apartments is $30.5 million and the project was partially financed through 4% Federal LIHTC tax exempt bonds issued by the State of Maryland. For more information, click here for the official press release and photos from the event.
Above all, Mission First is grateful to the residents of Perkins and Somerset Homes who provided the vision for PSO and attended hundreds of meetings to ensure that the PSO development occurs. "The beginning of construction and the critical investment being made in Perkins Somerset and Oldtown are monumental," said Mayor Bernard C. "Jack" Young. "The residents of this community have been extremely patient and deserve all the phenomenal changes they are about to witness."
In addition to assisting its development partners in securing the Choice Neighborhoods Initiative grant of $30 million awarded in 2018, Mission First secured a Capital Magnet Fund Award of $3.375 million dedicated to the PSO redevelopment. The Capital Magnet Fund is a program of the U.S. Treasury Department's Community Development Financial Institutions Fund. Mission First was one of only 14 nonprofit housing organizations across the country to receive an award.
"We are proud to be part of the Perkins Somerset Oldtown redevelopment team," said Sarah Constant, Managing Director for Mission First Housing Group. "This development increases Mission First's footprint in Baltimore, and, as a Choice Neighborhoods development, we are excited to not only provide new affordable housing but also be part of the team bringing comprehensive redevelopment into this community."
Posted Under: News