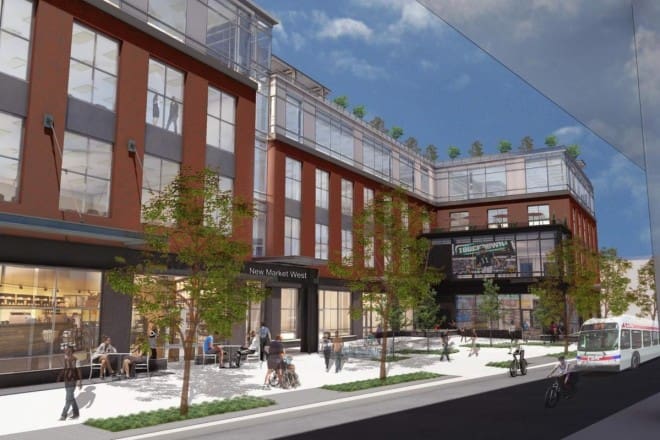 MEDIA ALERT: Topping Off Ceremony for New Market West
by Mission First Housing
Celebrate the First Milestone in the Construction of This New Community Resource
Who:
The Honorable Curtis Jones, Jr., Councilman, 4th District, City of Philadelphia Council; Alfredo de la Peña, Chief Executive Officer, Mission First Housing Group; Jeffrey W.J. Wilush, President & CEO, Horizon House and Jamila Harris-Morrison, Executive Director, ACHIEVEability and project partners.
What:
Topping Off Ceremony for New Market West
When:
TODAY, November 9, 2018 at 11 am
Where:
The Future Home of New Market West, 5901 Market Street, Philadelphia, PA
Why:
After project partners and funders sign the last steel beam, it will be placed on New Market West reaching the first milestone in the new construction of the building.
New Market West is a four story, 135,700 square foot hub for retail and community services on a 1.5 acre vacant site near the 60th and Market Street El stop in West Philadelphia. The building will bring high quality early childhood education; workforce development, educational and emergency support services; behavioral health services; and community-serving retail to this transit-accessible location.
New Market West is a joint venture between Mission First Housing Group and Horizon House, two organizations with a long history of creatively using their expertise in affordable housing and human service delivery to make a difference to people in need across Philadelphia. Now, with the strength of community-based partner ACHIEVEability, the organizations have an opportunity to bring this work to the Haddington-Cobbs Creek community.
The Construction of New Market West is a joint venture between McDonald Building Company and Mission First's general contractor Columbus Property Management. Construction is expected to be complete by fall 2019.
Opportunities:
Interviews with project partners
Photos and video of Topping Off Ceremony
Contact:
Becky Lang Staffieri, Mission First Housing Group, (215) 651-4858, rstaffieri@missionfirsthousing.org
###
Mission First Housing Group develops and manages affordable, safe and sustainable homes for people in need, with a non-profit, mission-driven focus on the most vulnerable. We ensure our residents have access to resources to help them live independently. We deliver housing that provides long-term benefits to residents and neighborhoods, alike. Mission First is a full-service real estate organization developing high-quality, green community assets across the Mid-Atlantic region.  Mission First currently provides affordable housing and services to over 4,500 people in nearly 3,300 apartments, serving populations in need, such as veterans, survivors of domestic violence, seniors and the disabled. More information at www.missionfirsthousing.org.
Posted Under: Press Releases