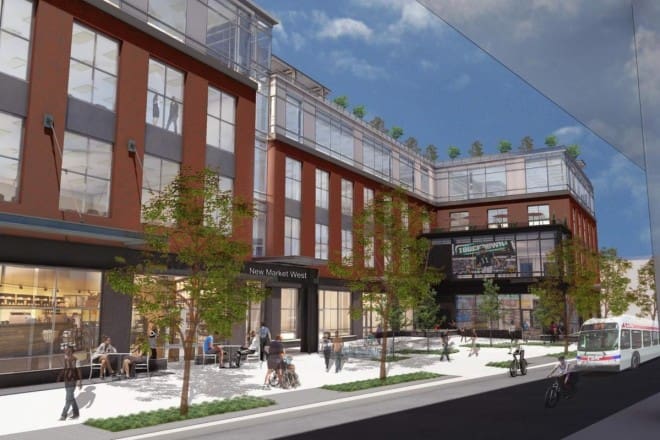 MEDIA ALERT: Top Elected Officials Break Ground on New Retail/Community Services Complex in West Philadelphia
by Mission First Housing
New Market West Begins Construction in Haddington-Cobbs Creek Community
Who:
The Honorable Tom Wolf, Governor, Commonwealth of Pennsylvania; The Honorable Dwight Evans, Congressman, 2nd District of Pennsylvania, United States House of Representatives; The Honorable Vincent J. Hughes, State Senator, 7th Senatorial District, Commonwealth of Pennsylvania Senate; The Honorable Vanessa Lowery Brown, State Representative, 190th Legislative District, Commonwealth of Pennsylvania; The Honorable Morgan Cephas, State Representative, 192nd Legislative District, Commonwealth of Pennsylvania; The Honorable Curtis Jones, Jr., Councilman, 4th District, City of Philadelphia Council; Anne Fadullon, Director of the Planning and Development Cabinet, City of Philadelphia; Alfredo de la Peña, Chief Executive Officer, Mission First Housing Group; Jeffrey W.J. Wilush, President & CEO, Horizon House and Jamila Harris-Morrison, Executive Director, ACHIEVEability; as well as project partners and community members.
What:
Groundbreaking for New Market West
When:
FRIDAY, February 16, 2018 at 10:00 am (program start at 10:30 am)
Where:
The Future Home of New Market West, 5901 Market Street, Philadelphia, PA
Why:
New Market West is a four story, 135,700 square foot hub for retail and community services on a 1.5 acre vacant site near the 60th and Market Street El stop in West Philadelphia. The building will bring high quality early childhood education; workforce development, educational and emergency support services; behavioral health services; and community-serving retail to this transit-accessible location.
New Market West is a joint venture between Mission First Housing Group and Horizon House, two organizations with a long history of creatively using their expertise in affordable housing and human service delivery to make a difference to people in need across Philadelphia. Now, with the strength of community-based partner ACHIEVEability, the organizations have an opportunity to bring this work to the Haddington-Cobbs Creek community.
Construction on New Market West will begin next week and expected to be complete by fall 2019.
Opportunities:
Interviews with speakers
Photos and video of remarks
Photos and video of Groundbreaking Ceremony
Contact:
Becky Lang Staffieri, Mission First Housing Group, (215) 651-4858, rstaffieri@missionfirsthousing.org
Charlita Davis, MS, Office of Councilman Curtis Jones, Jr., (215) 686.2452, Charlita.Davis@phila.gov
###
Posted Under: Press Releases