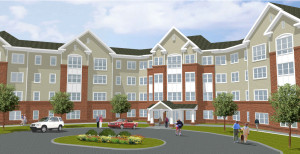 MEDIA ALERT: Affordable Senior Housing Coming to Prince George's County
by Mission First Housing
Groundbreaking for The Belnor Senior Residences in Suitland
Who:
The Honorable Rushern L. Baker III, Prince George's County Executive; The Honorable Karen R. Toles, County Councilmember, District 7; Christine Jenkins, Director of US Department of Housing and Urban Development DCFO-PH; Brien O'Toole, Deputy Director of MD Community Development Administration Department of Housing and Community Development; Eric C. Brown, Director of Prince George's County Department of Housing and Community Development; Karen Anderson, President of Suitland Civic Association; Elsie Jacobs, President of Suitland Action Team; Gloria G. Lawlah, President of White Rose Foundation; Kimmel Cameron, Vice President of Hudson Housing Capital; Ed Delany, Vice President of Capital One Bank; Lisa A. Bolden, President of L.A. Bolden Company; Daniel P. Henson, III, President of The Henson Development Company and Sarah Constant, Managing Director of Mission First Housing Group; as well as Mission First's leadership team, project partners and community members.
What:
Groundbreaking for The Belnor Senior Residences
When:
Thursday, September 14, 2017 at 10:30 am
Where:
The Future Home of The Belnor Senior Residences, 3800 St. Barnabas Road, Suitland, MD 20746
Why:
Mission First Housing Group is breaking ground on The Belnor Senior Residences, a 122-unit new construction affordable senior apartment complex located in Suitland, MD. The building is anticipated to deliver in Fall 2018.
The 4-story building is well situated along St. Barnabas Road with excellent accessibility to nearby shopping and transit, while backing up to a wooded area and stream. Green design features include Energy Star appliances, efficient individual HVAC units and low VOC materials for improved indoor air quality. Amenities include a two-story club room, library, fitness center, putting green, community garden and greenhouse.
The development was financed using a HUD 221(d)4 loan through AGM Financial with Wells Fargo; Maryland CDA Tax Exempt Bond Financing in coordination with Stifel; CDA Rental Housing Works; Prince George's County DHCD HOME funding and PILOT; San Francisco FHLB AHP grant and low income housing tax credit equity through Hudson Housing Capital, with Capital One as the investor.
The project is being developed in partnership with the L.A. Bolden Company and The Henson Development Company.
Opportunities:
Interviews with speakers
Photos and video of remarks
Photos and video of Groundbreaking Ceremony
Contact:
Becky Lang Staffieri, Cell: (215) 651-4858, rstaffieri@missionfirsthousing.org
Posted Under: Press Releases