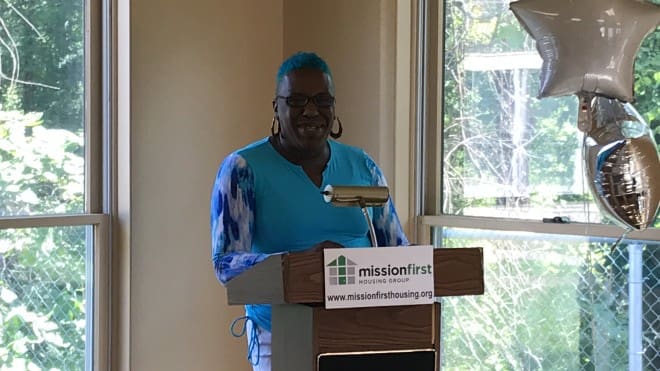 Kenja's Story – Mission First Supportive Housing: Edison
by Mission First Housing
Kenja Jackson is proud to proclaim "I am 5 years sober!"
It has been a long road for Kenja. Her experience at Imani Park, one of Mission First Housing Group's Permanent Supportive Housing communities in Edison, NJ, was what helped her move past her addiction and homelessness and into independent living.
Kenja grew up in Cliffwood, NJ. As a teen she was rebellious and often ran away from home. In 1993 at 17 years old, Kenja met Gerard who tried to take care of her and help her focus on school, but his addiction to drugs eventually caught up with both of them.
At 18, Kenja had her first son and Gerald was in and out of prison, so she and her son moved in with her friend's family who became her support system. In the 14 years that followed, her addiction grew and so did her family, adding two more sons and a daughter.
Kenja's first attempt at sobriety came in 2008 when her brother died. She was pregnant with her fifth child and needed to go to treatment for her family. Her children stayed with family members and when her daughter was born, she was taken to a foster home. After a year in the program, she was able to transition to a Mommy and Me program and get her girls back. In 2014, Kenja welcomed another child, but unfortunately Kenja relapsed again in 2017. Her addiction drove her and her two youngest children back to homelessness, sleeping on floors, couches and sometimes even on the waterfront in a car in Perth Amboy. Then inspiration came from her oldest son who wanted his parents to be part of his new family.
"My oldest son said to me, 'Mom if you and Daddy don't get your stuff together, you cannot be around my kids' and that is when I decided to get clean." But Kenja was bouncing from one friend's home to another, and she knew that was not a solution. She thought "I can't keep living like this. It is bad enough I did it to the boys, I didn't want to do it to the girls. They deserve a chance."
Kenja started going through the resource information she had collected over the years and she got in touch with Melissa Mascolo, Director of Program Management for Mission First Supportive Housing: Edison. "[Melissa] said 'Listen Ms. Jackson, I am here for you and this is what you need to do.' That's how I got in Imani Park. I was one of the first people to pick my apartment."
In 2019 when she first moved into Imani Park, she was so happy. "It was so nice. It was what me and my girls needed. I just said thank you, because I was ready to give up and this was a new start for me." With assistance from Melissa and the Edison team, Kenja and her children received counseling and programming to help with basic skills, budgeting and more, as well as enjoyed family events and celebrations.
Kenja lived at Imani Park for over 2 years when she secured a Section 8 voucher. Even though she had housing and was happy where she was, Kenja said "I took the Section 8 because I know what I went through, and there could be someone else out there that could use this apartment. So I graduated the program and I left." Today Kenja and her daughters live in a home in Perth Amboy.
Today Kenja works at New Jersey Association on Correction (NJAC) in New Brunswick, assisting with people who were recently released from prison and those experiencing homelessness. "I want to help people with substance abuse, addictions and homelessness, and with their kids. Because I have been there. I know what it is not to have and can't find nowhere to go and some nights you might not eat so you make sure your kids eat. I want to give someone else hope that they can do it and not to give up, because sometimes you want to give up."
She says one of the most fulfilling things about being out on her own is paying bills. "I missed so much in my addiction. I missed living life. I missed being an adult. Not saying that I look forward to the bills coming in the mail, but that's the things you have to do as an adult. Because of my addiction, I didn't do that. It was not my #1 priority. It is something for me to pay the electric bill or the gas bill. That is huge for me."
Kenja believes had it not been for the opportunity to live at Imani Park and the supportive services program she would still be on the streets struggling. "I'm not struggling today. Life happens, but I am not struggling. My kids are ok. My kids are fed. They are doing great in school. Everything is ok. Home is my safe haven. Somewhere where I know my kids are ok. My kids have a roof over their head and they are taken care of."
Click here to learn more about Mission First Supportive Housing: Edison.

Posted Under: Stories