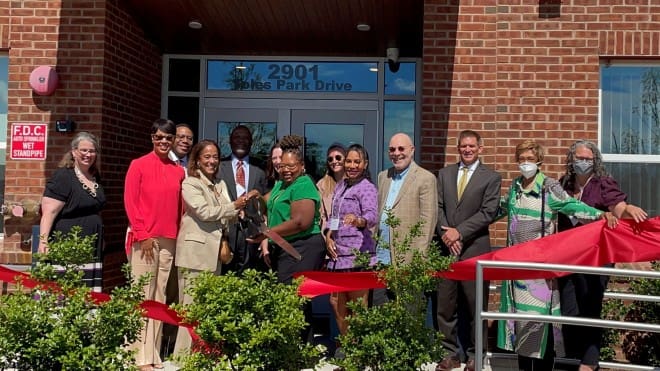 Grand Opening of The Lewis Apartments in Suitland, MD
by Mission First Housing
On Tuesday, August 16, State and County Officials joined Mission First Housing Group to celebrate the Grand Opening and Ribbon-Cutting for The Lewis Apartments, a large senior affordable housing development at 2901 Toles Park Drive, Suitland, MD.
Mission First's CEO Thomas Queenan and SVP of Real Estate Development Sarah Constant were joined by Ed Barnett of Maryland Department of Housing and Community Development, Angie Rodgers of Prince George's County Department of Housing and Community Development, Stephen J. Paul of The Redevelopment Authority of Prince George's County, Nic Cober of CJR Development Partners, Jeanne Fields of Fulton Bank, N.A., Kelly Mahoney of R4 Capital; Lisa Bolden of L.A. Bolden Company and Gloria Lawlah of White Rose Foundation to offer their remarks and congratulations on the project. Many new residents, project partners and community members also came out to celebrate.
"The Lewis is another example of the high-quality, affordable rental housing supported by the State of Maryland," said Ed Barnett.
In 2016, the Prince George's County Redevelopment Authority (RDA) selected Mission First Housing Group and its partners, The Henson Development Company and L.A. Bolden Company, to develop The Lewis Apartments – a brand-new senior (age 62+) 137-apartment housing community.
The Lewis Apartments is named for John Lewis, the late civil rights leader and long-time politician. This six-story building is part of a vibrant pedestrian-oriented neighborhood created through the Towne Square at Suitland Federal Center redevelopment, an initiative of the Prince George's County RDA that includes townhouses, retail and residential development.
"We decided, when we did the planning, that the senior housing was central to the (Towne Square at Suitland Federal Center) project, with direct access to amenities" said Stephen Paul.
The Lewis features sleek kitchens with brand-new, stainless-steel Energy Star appliances and granite countertops, and an open concept living space. Residents enjoy a rooftop terrace, yoga room, fitness center, party room and club room. Laundry rooms are located on each floor, with adjacent lounges. The building is energy-efficient which results in healthy homes with low utility costs.
The Lewis Apartments provides affordable housing for seniors with 72 apartments at 50% AMI rents, 45 apartments at 60% AMI rents, 16 apartments at 80% AMI rents and 4 apartments that are unrestricted or market rate.
Once complete, the Towne Square at Suitland Federal Center will offer a mix of residential, retail and cultural arts facilities. Residents of The Lewis Apartments and neighbors will enjoy shopping, outdoor activities, public art, performances and more.
Check out more event photos and read quotes from our honored guests on Twitter at @MissionFirstHG.
Posted Under: News