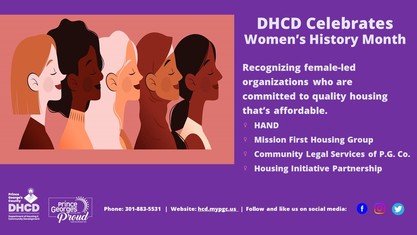 DHCD Celebrates Women's History Month by Recognizing Women Who Are Making an Impact in Affordable Housing
by Mission First Housing
As part of Women's History Month, Prince George's County's Department of Housing and Community Development featured a profile – DHCD Celebrates Women's History Month by Recognizing Women Who Are Making an Impact in Affordable Housing – in their March e-newsletter (click here), including Sarah Constant, Senior Vice President, Real Estate Development for Mission First Housing Group. Click here to read.
Sarah is responsible for managing development projects, building client relationships and overseeing Mission First's day-to-day development operations.
To date, Sarah has closed more than $300 million worth of affordable housing and mixed income development deals across the Maryland and DC region – including The Lewis Apartments, a 137-unit senior development in the Towne Square at Suitland Federal Center and The Belnor Senior Residences, a 122-unit senior development in Suitland, MD – and has numerous projects in development. Sarah serves on the Board of Directors of HAND as Vice President as well as a member of the Executive and Governance committees.
In addition, Sarah is joined by six other women in Mission First's Real Estate Development and Construction Departments:
Sue McPhedran, Director of Development – Philadelphia Region
Elizabeth Everhart, Senior Development Manager – DC/MD Region
Kyla Weisman Bayer, Senior Development Project Manager
Kate Murray, Development Project Manager
Victoria Ricci, Construction/Development Cost Accountant
Wendy Straker, Construction Project Assistant
Posted Under: Mission First In The News