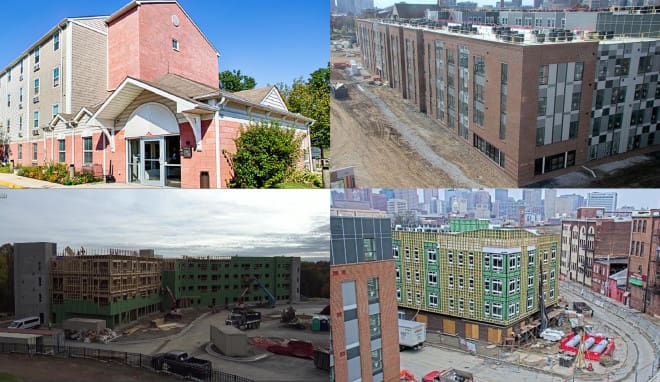 Big Things Coming in 2023
by Mission First Housing
Mission First has over 400 affordable apartments under construction that will be open by the end of the year, as well as over 1,000 apartments set for new construction/preservation in our pipeline across our Mid-Atlantic footprint. We are excited to add to our portfolio, providing more homes to individuals and families in 2023.
This spring, Mission First will complete its work on the Chester County Preservation Initiative (CCPI). Mission First, along with partner HDC MidAtlantic, were selected by the Housing Authority of Chester County to recapitalize three of their existing affordable housing properties. CCPI consists of three properties – Hannum Gardens in West Chester, PA serving families, and Washington House Apartments and Ash Park Terrace in Coatesville, PA serving seniors and disabled populations. The recapitalization of CCPI will preserve critical housing assets in Chester County and renovations will improve energy efficiency and enhance the quality of life for residents. Two of the three properties are complete and the final development will be completed in the next month.
Coming this summer, Phase 2 and 3 of our work on the Perkins Somerset Oldtown (PSO) Transformation Plan will open. Development of the PSO is taking place in six phases, across two primary locations. Mission First and partner The Henson Development Company are co-leading development efforts on the Somerset Baltimore section of the project, which will include 396 affordable and 161 market rate apartments. 1234 McElderry, a 104 mixed-income apartment community, opened in 2021. This summer, The Ella at Somerset and The Ruby at Somerset will welcome residents. The Ella, located at the corner of Somerset and Aisquith Streets will have 192 apartments, and The Ruby, also on Aisquith Street, will have 72 apartments. The new Somerset community welcomes back neighbors who lived in the Somerset Homes community – the former public housing development that existed at the site – and new residents to this hub of open space, retail, commercial, apartments and schools, so residents can live, work, shop, go to school and play within their neighborhood.
In partnership with St. Anne's Episcopal Church, Mission First is developing Cain Commons (formerly known as St. Anne's Senior Apartments), a 76-apartment, four-story senior housing community located in Damascus, Montgomery County, Maryland. The site is adjacent to St. Anne's Episcopal Church and provides a mix of 66 one-bedroom and 10 two-bedroom apartments for seniors earning 30%-70% of Area Median Income. The development is intended to support aging-in-place and boasts common areas such as community and sitting room, fitness room and library/meeting room. Cain Commons will open this fall.
We are excited about preserving existing affordable housing and bringing new housing assets to these communities in Pennsylvania and Maryland. Stay tuned for more information about Grand Opening and Ribbon Cutting events coming this year.
Posted Under: News