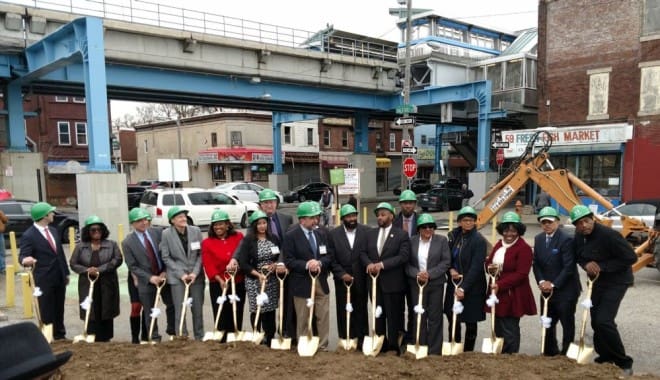 "Prize Of The Community": New Market West Groundbreaking Is First Step Toward Revitalizing Haddington-Cobbs Creek
by Mission First Housing
By Jack Firneno (University City Review)
Jamila Harris-Morrison knows the good and sees the bad in Haddington-Cobbs Creek. The West Philadelphia neighborhood benefits from a community rich in acceleration and amazing neighbors.
As the Executive Director of ACHIEVEability, she's worked with more than 100 residents in the area to become financially self-sufficient.
However, the neighborhood also suffers economically, with a lack of business investments and a 30-percent poverty rate.
These factors together, however, make the area the perfect place for a substantial community investment. Now, that's coming to the area in the form of New Market West, a four-story, 135,700-square foot building that will serve as a hub for services in the area.
The project is a collaboration between ACHIEVEability, Mission First Housing Group, which provides homes to more than 4,000 residents, and Horizon House, which serves 5,000 people with community-based services annually.
Posted Under: Mission First In The News