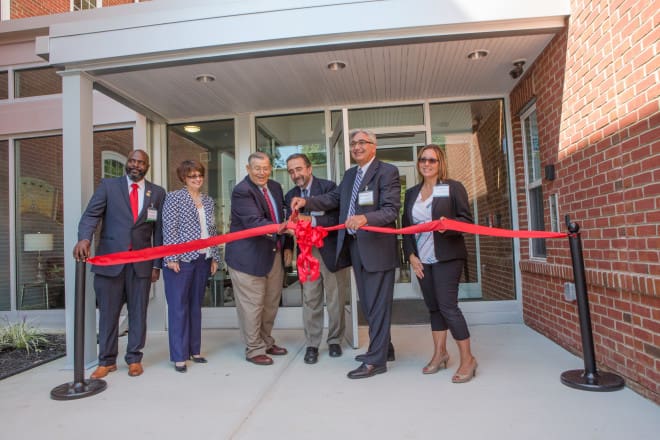 New Senior and Veterans Housing Now Open in Burlington Co.
by Mission First Housing
Old Eagle Shirt Factory Transformed Into 48 Units of Affordable Housing
Bordentown, NJ—Mission First Housing Group officially opened Union Eagle Senior Apartments on Friday, September 16, 2016. Joined by Joseph Malone, Mayor of the City of Bordentown, and Anthony Marchetta, Executive Director of the New Jersey Housing and Mortgage Finance Agency, Mission First's Chief Executive Officer Alfredo de la Peña welcomed more than 50 project partners and community members to explore its first affordable housing project in New Jersey.
Union Eagle Senior Apartments includes 48 units of affordable senior and veterans housing at 1 Spring Street in the center of Bordentown, New Jersey. The project features the adaptive reuse and rehabilitation of the former Eagle Shirt Company factory (also Union Pants Manufacturing Company) into 21 one-bedroom apartments, and the new construction of a three story building addition of 27 one-bedroom apartments.
"As our first project in New Jersey, we are happy to preserve this historic community asset and transform it into housing for the seniors and veterans of Bordentown and Burlington County," said de la Peña. "I hope that this is the first of many affordable housing projects that Mission First develops in New Jersey."
The project cost $11.5 million to develop. The funding for Union Eagle Senior Apartments comes from New Jersey Housing Mortgage Finance Agency, Wells Fargo Bank, Burlington County and Affordable Housing Program funds from the Federal Home Loan Banks of Pittsburgh and Atlanta.
The Department of Community Affairs has provided 5 project-based vouchers to the project which will support veterans in those units. The remaining 43 apartments are affordable to seniors, aged 55 and over, with incomes at or below 60% of Area Median Income.
"The use and restoration of one of Bordentown's historic landmarks for senior housing was a much anticipated project and now that it is complete, it is a welcome and beautiful addition to the town and neighborhood where it stands," said Mayor Malone. "The City and its residents are proud of this new addition to our community and thank the Mission First Housing Group for their hard work and dedication to such a worthy project."
All units contain a full service kitchen, ample closet space, and open living area and a full bathroom. Union Eagle Senior Apartments has community space for residents' use as well as service and programming delivery, a laundry room and leasing and management offices. A comprehensive social services program, designed to meet the needs of residents, complements the housing.
The sustainable design features of this project satisfy the standards of New Jersey's ENERGY Efficient Homes and USGBC LEED© for Homes programs. This design employs continuous insulation through its entire envelope without any thermal bridging, as well as high performance windows and doors and state of the art appliances and equipment that are high performing and energy efficient. The project was developed using low VOC materials for improved indoor air quality, and a balanced heat and moisture recovery ventilation for maximum cost savings to future residents.
###
Mission First Housing Group develops and manages affordable, safe and sustainable homes for people in need, with a nonprofit, mission-driven focus on the most vulnerable. We ensure our residents have access to resources to help them live independently. We deliver housing that provides long-term benefits to residents and neighborhoods, alike. Mission First is a full-service real estate organization developing high-quality, green community assets across the Mid-Atlantic region. Mission First currently provides affordable housing and services to more than 4,000 people in nearly 3,000 units, serving low income populations that include veterans, elderly and the disabled. More information at www.missionfirsthousing.org.
Posted Under: Press Releases