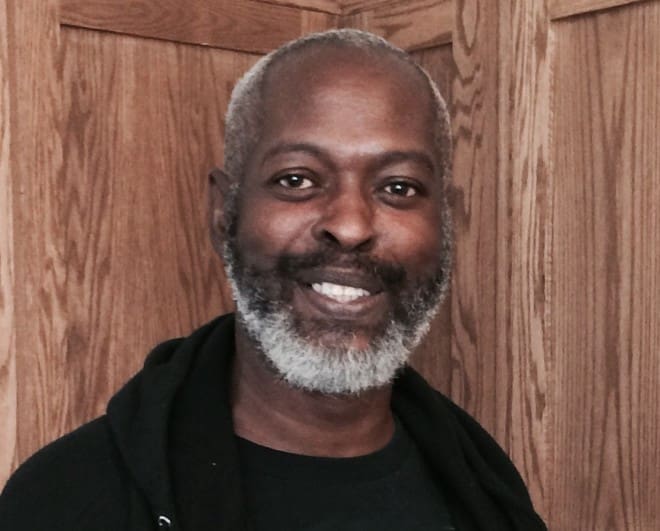 Our Residents: Kenny's Story
by Mission First Housing
Kenny Diggs opened the door to his new apartment and sat down on his new furniture.
After some small talk, the Philadelphia native pointed to a pile of knick-knacks and paintings on the floor and apologized.
"Sorry," he said. "I've got to find time to hang all this stuff up."
The clutter is understandable, though, because Diggs, an army veteran, is still getting settled into his new apartment at Westminster, Mission First's newest housing development at 4501 Westminster Avenue in West Philadelphia.
The fact of the matter is that, due to health issues and trouble finding a suitable living space, the future didn't always look this promising for the 52-year-old Diggs.
"I got sick – renal failure, kidney failure – and I've been on disability for about 18 years," Diggs said.
"It was actually from high blood pressure. Back then, they didn't know it was high blood pressure. Now they know. Back then they just kind of assumed. But I found out the hard way. … I was driving trucks across the country for a while and just got out of shape and was eating everything that wasn't right – McDonalds, fast food and all that stuff. I couldn't stop and exercise, so it kind of wore on me. By the time I stopped driving, it had already happened."
Diggs joined the military in his younger years as a "way to stay out of trouble," as he explained it. "I was a little bit of a troublemaker and wanted to get my life together, so I figured the army would be the best bet. I thought it could start my life."
Diggs, who described his experience in the army as "great," spent years on active duty in Germany and Fort Hood, Texas until he was honorably discharged in 1985.
It was after his honorable discharge when Diggs' health problems started to creep into the picture.
His initial kidney failure was just the start of various ongoing health issues that linger on to this day.
Following the kidney failure, Diggs underwent a bilateral hip replacement. That was followed by a long-needed kidney transplant. Just last year, Diggs had surgery for an issue with deteriorating bones.
With his health in question, Diggs needed to stay at a place where help was readily available.
He wound up at a nursing home in Northwest Philadelphia. But after a while, he was ready, and, more importantly, healthy enough to move on.
"I was at a nursing home in Cheltenham first," Diggs said. "They were supposed to find me a place. But I just sat there and I sat there and I sat there for months and they couldn't find me an assisted-living type place because I was barely walking. Then I said, 'Let me get myself together.' I started walking and I was walking enough that I could get out of there. They were surprised, but they were still wanting me to stay. I said, 'Wait a minute, I'm ready to go.'"
But it wasn't that easy.
The staff at the nursing home had trouble finding Diggs a new place, so, reluctantly, he moved to another nursing home.
It was there he reached out to a group called Liberty Resources, a nonprofit organization that advocates and promotes independent living for individuals with disabilities. Liberty, a long-time referral partner of Mission First's,introduced Diggs to the independent housing options Mission First had available for veterans.
There just so happened to be openings at newly completed Westminster, the latest project in Mission First's efforts to combat the veteran homelessness issue in Philadelphia. It's estimated over 350 veterans are currently homeless in the city and that many more are at risk.
Westminster, which was designed specifically for those with disabilities like Diggs, is conveniently located within short distance of many amenities, including grocery stores, healthcare facilities and pharmacies. The Philadelphia VA Medical Center is located just two miles away.
The complex is also located within walking distance of bus and transit lines, which allow for easier access throughout the Philadelphia area. Westminster's units even have fully accessible yards for residents to enjoy when the weather cooperates.
The location and easy access were tailor-made for Diggs, who knew moving into Westminster would be a great opportunity to move forward with his life. He eagerly filled out any paper work he had to and then patiently waited.
With the help of Mission First property manager Robin Taylor, Diggs finally got the news he had waited so long for – he had been approved for independent housing with Mission First.
In fact, he became Westminster's first resident.
Diggs is grateful for Taylor's support. "She's a blessing. She helped me get it done."
"It all worked out. I actually got a place built from the ground up. It just worked out. God said to be patient. I think I was patient enough and he blessed me with this."
How eager was he to move in?
"This place wasn't even ready yet, but I told them I'm ready to move in now," said Diggs, who eventually got furniture with the help of Liberty Resources.
Diggs isn't out of the woods health-wise yet, though. He has another surgery scheduled for January and he's going to need another transplant. An aide still comes over to help him run his errands.
But he said being out on his own again is all he can ask for right now.
"It feels great," Diggs said. "I've got a chair and I've got a bed. I'm working on getting pots and pans and silverware and stuff like that.
"I'm in here. I've got a roof. That's basically just the best thing. I can worry about the other stuff."
There is one thing, though.
"Oh, yeah. I'm going to have to get me a bigger TV one of these days."
Posted Under: Stories