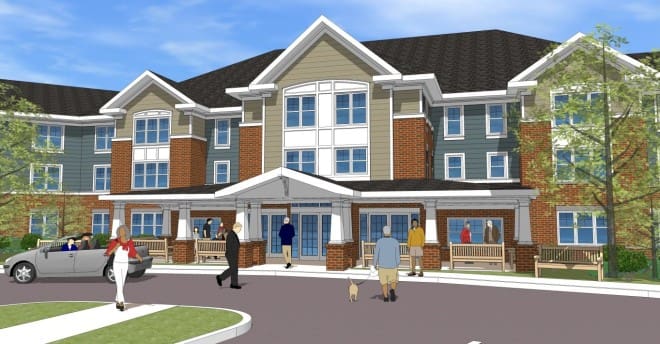 Groundbreaking Ceremony for Mount Jezreel Senior Housing in Silver Spring
by Mission First Housing
MEDIA ALERT:
Saturday, April 29, Noon (music begins at 11:30 a.m.)
Mount Jezreel Baptist Church
420 University Blvd E., Silver Spring, MD
Mount Jezreel Senior Housing is a planned new construction project for 75 mixed-income apartments for Montgomery County seniors age 62 and over, including senior veterans. The project development team is led by Mission First Housing Group in partnership with Mount Jezreel Community Development Corporation (affiliated with Mt. Jezreel Baptist Church) and The Henson Development Company.
Joining County Executive Isiah Leggett will be Councilmember Tom Hucker; John R. Maneval, deputy director, Maryland Community Development Administration Department of Housing and Community Development; Dina Gordon, deputy secretary, Maryland Department of Aging; Reverend Eldridge Spearman, Mount Jezreel Baptist Church; Sarah Constant, managing director, Mission First Housing Group; Clarence J. Snuggs, director, Department of Housing and Community Affairs; and Paul Connelly, vice president, R4 Capital.
Media Contacts:
Mission First Housing Group: Becky Lang Staffieri, 215-651-4858
Montgomery County:  Lorraine Driscoll, 240-777-6507
###
Mission First Housing Group develops and manages affordable, safe and sustainable homes for people in need, with a nonprofit, mission-driven focus on the most vulnerable. We ensure our residents have access to resources to help them live independently. We deliver housing that provides long-term benefits to residents and neighborhoods, alike. Mission First is a full-service real estate organization developing high-quality, green community assets across the Mid-Atlantic region. Mission First currently provides affordable housing and services to more than 4,000 people in nearly 3,000 units, serving low income populations that include veterans, elderly and the disabled. More information at www.missionfirsthousing.org.
Posted Under: Press Releases