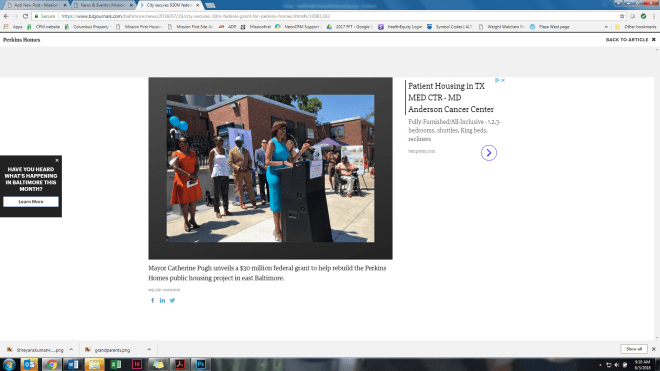 City secures $30M federal grant for Perkins Homes, East Baltimore redevelopment
by Mission First Housing
By Melody Simmons – Reporter, Baltimore Business Journal
Demolition of 76-year-old Perkins Homes north of Harbor East will begin in the coming two years aided by a $30 million federal grant awarded to Baltimore Thursday.
The Choice Neighborhoods grant from the U.S. Department of Housing and Urban Development will also enable redevelopment of new housing, retail and office space at the former Somerset Homes site and in the blighted, abandoned Oldtown area.
Perkins residents will have the option of moving back into the new units once their community is rebuilt, estimated to be in the coming five or so years, said city housing officials and Mayor Catherine Pugh. Other housing on the Perkins Homes footprint — located less than five blocks from the chic waterfront hub Harbor East — will be market rate.
The vision has been on the table for more than a decade, but began to move forward in 2014 when a group of community members began to meet with city housing officials and private developers to make it gel. Perkins has 629 units and was built in 1942.
A team of private developers led by Beatty Development and St. Louis-based McCormack Baron Salazar will lead the effort with the Housing Authority of Baltimore City. Other private developers are Cross Street Partners, Mission First Housing and Henson Development Co., founded and owned by former city housing commissioner Daniel P. Henson III.
Click here to read the full article.
Photo from Baltimore Business Journal
Posted Under: Mission First In The News