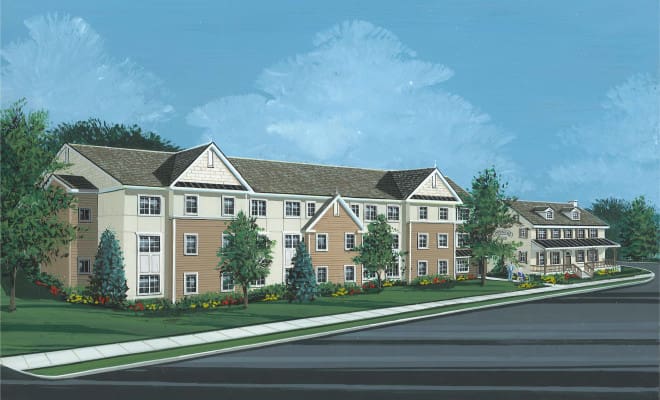 Number of Units
49
Development Costs
Under Construction
Goal
New construction of affordable units for veterans
Description
Mission First Housing Group is in the process of renovating the historic Whitehall Inn and constructing a new addition that will create 48 affordable apartments, plus one unit for an on-site superintendent. Mission First is developing The Whitehall in response to a local need to provide permanent supportive housing for at-risk veterans and a national effort to end veterans homelessness.
Planning for the Whitehall began in the summer of 2012, when Mission First met with representatives of the Veterans Administration (VA), Chester County Department of Community Development and Housing Authority of Chester County to discuss the development of veterans housing in Chester County. The VA indicated that the limited supply of affordable housing units in the County was preventing the veterans it serves from securing safe, stable and affordable housing. The VA also indicated that many veterans prefer to live in the company of other veterans who have shared similar life experiences.
The building will include a community room and fitness facilities, as well as a computer room. The Whitehall will have a live-in property superintendent and on-site supportive services to link veterans to community-based supports. The Whitehall will be built with passive house design—a rigorous, voluntary standard for energy efficiency in a building, reducing its ecological footprint. The passive housing design will result in a significant reduction in utility usage by residents.
The funding for The Whitehall comes from the Pennsylvania Housing Finance Agency, Riverside Capital Equity Partners, the Housing Authority of Chester County, Citizens Bank and The Home Depot Foundation.