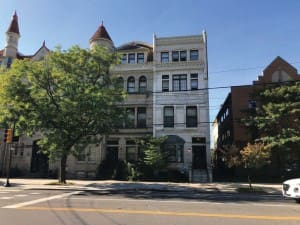 Number of Units
82
Year Developed
2021
Development Costs
$16,839,305
Goal
Preservation restoration of sixteen 19th century homes with 82 apartments in the Parkside Historic District of Philadelphia.
Description
The Parkside Neighborhood Preservation (Parkside) project includes the historic preservation of 82 affordable housing units in 16 buildings, which were built circa 1895 and last renovated in 2001-2003. The property includes one efficiency (486 SF), 66 one-bedrooms (avg. 569 SF), 13 two-bedrooms (738 SF), and two three-BR units (923 SF) in 16 existing multifamily walk-up buildings, all of which will be renovated as part of this project.
Parkside provides housing to some of Philadelphia's most vulnerable residents: individuals who are formerly homeless, experiencing mental illness, or physically disabled. The unit mix for the property includes 50 units (60%) at 50% of the Area Median Income (AMI). The current residents earn well below these income thresholds; 77 of the 82 households at the property are at below 50% of AMI, and 50 households have incomes below 20% AMI. Mission First has obtained operating subsidies to support these vulnerable residents. Forty-nine of the 82 units have project-based vouchers (PBV) through the Philadelphia Housing Authority. Twenty-six residents benefit from tenant-based rental assistance from the City of Philadelphia. The property is located in the growing housing market of West Philadelphia/University City, which continues to see new multifamily development, high occupancy levels and rising rents.  Reinvesting in Parkside is critical so that the property can continue to play its role in the City of Philadelphia's Continuum of Care.
Parkside Neighborhood Preservation is at risk due to its declining physical condition. The property is out of the 15-year compliance period, and is composed of historic buildings over 100 years old, which were last renovated in 2001-2003. As demonstrated in the PNA, since this last renovation, the majority of the property's major building systems have reached the end of their useful life. Items in need of replacement include: flooring, furnaces, air handlers, condensers, water heaters, light fixtures, kitchen and bathroom finishes. Action must be taken now to address the property's physical needs while they can still be accommodated within a 4% tax credit transaction.
The redevelopment of these apartments will address building systems in need of an update, windows repair/replacement, as-needed HVAC upgrades, building envelope repairs, porch and masonry work, flooring throughout the buildings, new appliances, and as-needed bathroom and kitchen upgrades. Painting will be completed in the units and common areas. The renovations will also include accessibility upgrades to nine units at 1237-1241 Belmont Ave., along with a new two-stop elevator, which will bring these units up to full ADA compliance.
In addition to the preservation of the physical asset, Mission First plans to provide for a part-time dedicated supportive service coordinator to complement the existing services for our special needs residents, whose services are funded by the City of Philadelphia's Department of Behavioral Health. It is critical that Parkside be preserved so that it can continue to serve this vulnerable population.
Parkside Neighborhood Preservation is located along Parkside Avenue, a highly visible corridor in West Philadelphia, and directly across from Fairmount Park, one of the City's most important assets. The property's buildings are historically and aesthetically unique, contributing to the character of the East Parkside neighborhood. The development is adjacent to major recent community investments, such as Centennial Village, a $20 million, 52-unit affordable and mixed-use development from Community Ventures. The property is directly across the street from Centennial Commons, a $4 Million investment by Fairmount Park Conservancy in stormwater management, pedestrian safety and public realm along Parkside Avenue. The Centennial Commons project includes rain gardens with native plantings and public seating areas, which have made the edge of Fairmount Park along Parkside Avenue into an inviting public space. Parkside Neighborhood Preservation would build upon the impact of these recent investments, to further improve the East Parkside neighborhood of West Philadelphia, and to help retain this neighborhood's unique historic built fabric.
Mission First Housing Group has received strong support from the City of Philadelphia for this development, as evidenced by the Department of Housing and Community Development (DHCD)'s commitment of $2 Million from the Housing Trust Fund for this project.
The Philadelphia Housing Authority has also indicated their support for this project, by agreeing to extend their current Housing Assistance Payments (HAP) Contract for Project Based Assistance for an additional 20 years to support this effort.