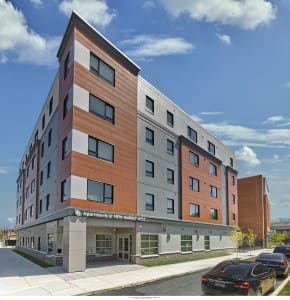 Number of Units
41
Year Developed
2021
Development Costs
$16,807,657
Goal
Eliminate vacant lot, creation of affordable housing near transit
Description
Mission First Housing Group completed the construction of Apartments at New Market West in 2021. The Apartments is Phase 2 of New Market West, a 93,000 square foot mixed use, transit-oriented development located near SEPTA's 60th and Market El stop in the Haddington/Cobbs Creek neighborhood of West Philadelphia. The Apartments provides affordable workforce rental housing to 41 low income households in a 52,000 square foot, 5-story building. The building includes 28 one-bedroom apartments and 13 two-bedroom apartments. Amenities include a laundry room, mail room, and exercise room, and community room. The entire building is sprinklered, fully Visitable, and meets PHFA's threshold green building and energy efficiency criteria. In addition, it achieved a reduced HERS rating and is certified under the 2015 Enterprise Green Building criteria. Six units are fully accessible, and two units are equipped for sensory-impaired individuals.
Apartments and New Market West is transformative for the Haddington/Cobbs Creek community. The project is a significant force in turning the tide of disinvestment that this area has experienced due to the reconstruction of the El over a ten year period. The neighborhood is beginning to experience pressure from the growth and development of University City to the east. New Market West created an asset that supports long-term residents by creating much-needed affordable housing while spurring private sector investment. It also supports other public-sector investments and will ensure that recent private investment in the area continues.
Apartments at New Market West's total development budget of $16,807,657, includes the following funding commitments: $2 million from the City of Philadelphia, $500,000 from the ARC of Philadelphia, $555,000 first mortgage from Community Lenders CDC, $375,000 in Affordable Housing Program funds from the Federal Home Loan Bank of Pittsburgh, a $532,733 Sponsor loan, LIHTC equity of $12 million, and deferred developer fee. Mission First's affiliate Columbus Property Management & Development, Inc. is the general contractor and will provide property management services to the completed project.