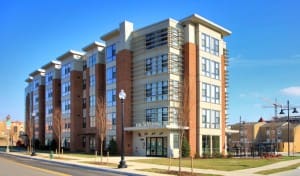 Number of Units
60
Year Developed
2011
Development Costs
$15.6 Million
Goal
New construction of affordable housing on an urban infill site.
Description
Mission First partnered with Golden Rule Apartments, Inc., a nonprofit affiliate of Bible Way Church, and The Henson Development Company to complete The SeVerna, a new 60-unit development located at 1001 1st Street NW and 88-98 L Street NW. Part of the Northwest One New Communities Plan, this building replaced a portion of the former Golden Rule Center, which was developed by Golden Rule Apartments Inc. in the 1970s.
The SeVerna consists of a five story building at 1st and K Streets NW, connected to two-over-two townhouses along L Street NW. The townhouses contain larger three and four bedroom units in an environment more suited to families, while the mid rise offers studio, one, two and three bedroom units. A community room is located on the ground floor of the building. Half of the units at The SeVerna were set aside for families previously relocated from the Northwest One neighborhood.
The project was financed using 9% low income housing tax credits and gap financing through the DC Department of Housing and Community Development. PNC Bank was the equity investor, and provided construction and permanent financing. Additional financing included New Communities funds from the Office of the Deputy Mayor for Planning and Economic Development and capital grant funds from the DC Housing Authority. Half of the units at the site receive project-based subsidy through the Local Rent Supplement Program.
Interested in living at The SeVerna? Click here for more information.
 Award
Affordable Housing Conference of Montgomery County, MD Architectural Design Awards Program: 2012