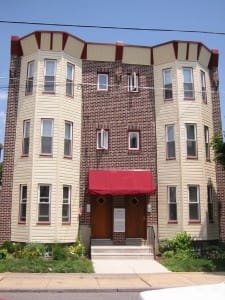 Return to Our Property Portfolio
Legacy Preservation Initiative
501-507 Reed Street, 1216 Snyder Avenue, 5900-02 Spruce Street, 418-28 N. Preston Street, 2047 Chestnut Street, 1671-73 Conklin Street, 6312 Morton Street, 4445 Kendrick Street, 8629 Gillespie Street, 4015 Magee Street, 6607 Frankford Avenue, 4101 Chestnut Street, & 5912 Jackson Street, Philadelphia, PA
Number of Units
138
Year Developed
2013
Development Costs
$19.5 Million
Goal
Renovation and energy efficiency upgrades across the City of Philadelphia. Enterprise Green Communities Criteria
Description
Mission First Housing Group's Legacy Preservation Initiative will rehabilitate 138 units in 13 buildings across the City of Philadelphia. The property will include an energy efficiency research program that has been selected for a $3 million Department of Housing and Urban Development (HUD) Energy Innovation grant through national competition. Of this amount, $2.5 million will be spent on capital upgrades to the buildings, including replacement of windows, doors, HVAC systems and other upgrades that will create energy cost savings of over 20%. The program will include a research component to study the energy savings of residents when an energy monitor is installed in their units.
The properties are part of a 448 unit portfolio owned by Mission First Housing Group. The entire Preservation Initiative will rehabilitate all 448 units, none of which have had major renovation work in the last 15 years.
LPI is funded through HUD's Energy Innovation Fund grant, 4% low income housing tax credit and tax-exempt bond financing, which will ensure that the units are not only energy efficient, but also remain affordable for at least 30 years into the future.