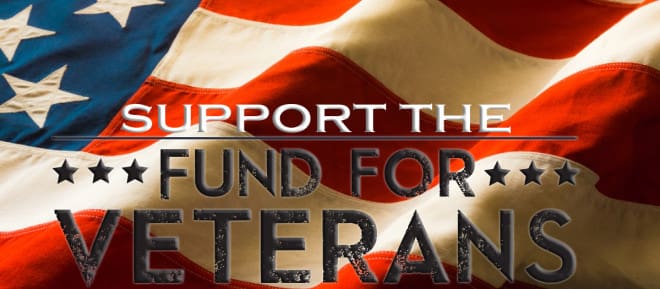 Support the Fund for Veterans
by Mission First Housing
Veterans Homelessness
The number of veterans experiencing homelessness in the United States has been cut nearly in half since 2010. Yet there are still far too many veterans struggling to find and keep a safe, affordable place to call home.
On a single night in January, 2018, just over 37,800 veterans were experiencing homelessness. On the same night, over 23,000 veterans were unsheltered or living on the street.
Did you know?
11% of the total homeless adult population are veterans, and veterans make up 20% of the adult male homeless population.
The number of post 9/11 veterans is expected to grow considerably – to more than 3.3 million by 2023. Already this population is cost-burdened and struggling to find affordable housing.
One in five post-9/11 veterans is a woman. Women veterans are three to four times more likely than non-veteran women to be homeless.
Mission First Housing Group is doing its part to eliminate homelessness among veterans.
At any given time, the Fund typically supports between 15 and 30 veterans and is supported entirely by fundraising dollars. Every dollar you give will help a veteran in need.
Give to Fund for Veterans Click here to make your secure, online donation today.
---
Melissa's Story

---
Here's how the Fund works:
It costs an average of $7,800 a year to provide an affordable one-bedroom apartment to an individual in need. The Fund for Veterans provides rental assistance to bridge the gap between this number and what a veteran can afford to pay.
Mission First is committed to helping veterans in need, regardless of their situation. With your support, we can.
Give to Fund for Veterans Click here to make your secure, online donation today.
If you prefer to mail your contribution, please send your gift to:
Fund for Veterans
2042-48 Arch Street, 2nd floor
Philadelphia, PA 19103
100% of the money donated to the Fund goes directly to support veterans in need. All costs to administer the Fund are paid for by Mission First Housing Group.
---
The Whitehall Apartments



As part of Mission First's continuing commitment to veterans, we opened The Whitehall Apartments, a permanent, supportive and affordable housing community for veterans in Chester County, in the summer of 2017. The Whitehall Apartments features 48 affordable apartments for veterans in need as well as the innovative reuse of the historic Whitehall Inn. The Whitehall Apartments and Mission First's resident services staff ensure that veterans have the supports they need to remain successfully housed, get back on their feet and live as thriving members of the community. Click here to learn more and support services and amenities at The Whitehall Apartments.
---
Do you want to do more than make a donation? Here are some other great ways for you to help…
Introduce your friends, family and colleagues to the Fund for Veterans.
Help secure a matching gift from your employer.
Host a fundraising event and donate the proceeds to the Fund for Veterans.
Do you have ideas you'd like to discuss? Give us a call! We'd love to work with you. Contact Moira Rooney, Director of Strategic Investment, at (215) 557-8414 x3251.
---
Give to Fund for Veterans Click here to make your secure, online donation today.
Your contribution to Mission First Housing Group is tax deductible to the extent permitted by law.
---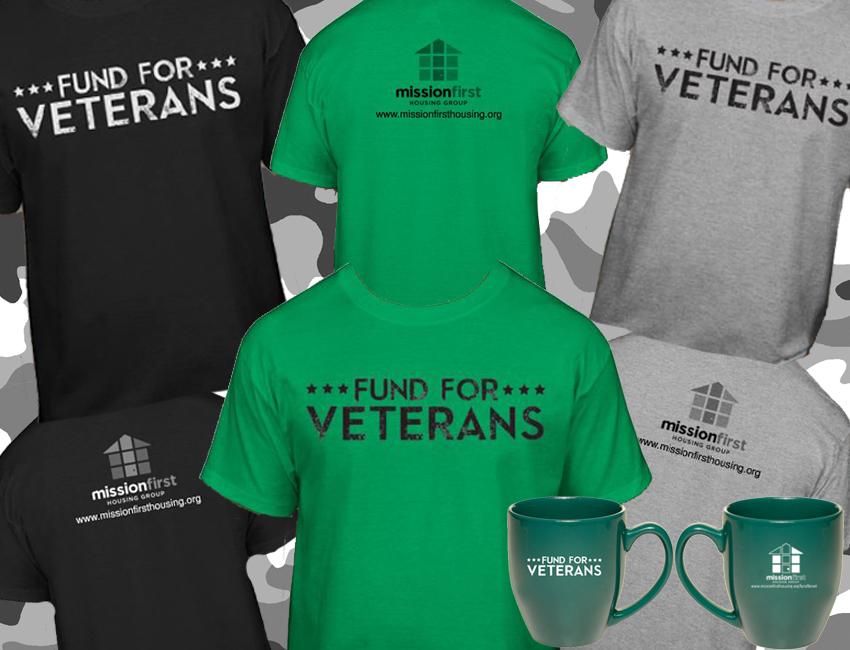 Click here to support the Fund for Veterans by purchasing a t-shirt or mug.

Posted Under: Uncategorized