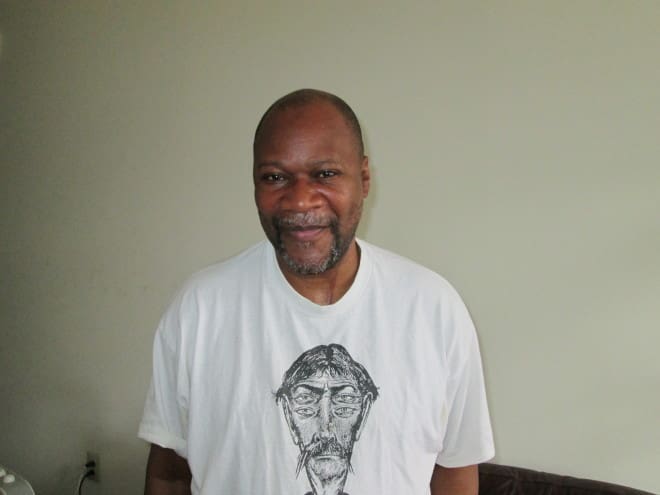 Way to Go, Joe!
by Mission First Housing
On June 2, Mission First's Senior Director of Property Management, Heidi Bohn, received this message:
"Good morning, Heidi. This is Joseph Hutt. I'm calling with regards to thanking you immensely, because yesterday was a year since I moved into my apartment, and I really, really love it. And it's all due to you, so I just wanted to say thank you. And I really, really appreciate what you have done for me. I didn't forget you, so thank you very much."
Ten days later, Heidi and Becky Lang Staffieri, Mission First's Communications Manager, went to talk to Joe, 55, in his apartment on Frankford Avenue. When they went in, he hugged Heidi and thanked her for helping him find a safe place to call home.
"I am here because of you," he told her.
Joe, a North Philly native, is the first person to benefit from the Fund for Veterans, run by CPM's parent organization: Mission First Housing Group. The Fund for Veterans was established to provide housing rental assistance for area veterans in need.
"I am glad I am one of them," said Joe, who joined the United States Army in 1977, and was honorably discharged in 1981.
Joe was based out of Fort Bliss, TX in desert training, Charlie Company 2nd Platoon. He spent a great deal of time as a cook (94B10). He says it was the best time of his life.
"I am definitely a success story." Joe admits that he was in a bad place a few short years ago.
After the Army, Joe moved back home to live with his mother and was collecting unemployment. She had strict rules that made it difficult for Joe to live there. He left out of respect for her and her rules, and moved in with his sister. He went into the Army Reserves for a while, and got his own place.
"At some point, you decide to grow up to be the man you want to be," he told them.
Joe got a job at a Philadelphia hospital as an orderly working with terminally ill patients—a job he found very fulfilling. Unfortunately, he lost his position at the hospital after being there for a few years, causing Joe to have a nervous breakdown.
He doubted himself, a first for this very confident army veteran. He struggled for a while in and out of work, and in and out of despair—causing years of housing instability. He finally visited a psychiatrist at the VA Medical Center who diagnosed his depression and helped him focus on getting through the tough times. Then, Joe had another setback that really tested his strength of character and will. He was diagnosed with spinal stenosis leading him to multiple surgeries and limiting his mobility.
When he was back on his feet, he then worked with a representative at the VA Medical Center to figure out how to get housing. The VA contacted Mission First's management company, Columbus Property Management. On Easter Sunday, March 31 at 8:30 pm, Heidi called Joe with the news that she had three apartments for him to see, including the one he lives in now. He moved in on June 1, and the rest, as he says, "is magic."
"I love all of this," he said. "This is the best apartment I have had in my life. Now, this is me. This is mine."
It took a few months to get accustomed to his new space, but now Joe has become part of the community. In fact, the people in the neighborhood gave him a nickname, "OG". He has taken a couple of neighbor boys under his wing, teaching them respect and helping them set goals. Joe shares his backyard with his next-door neighbor, who is also a veteran. He also gives back to his neighbors through sharing his delicious food with those who need a good meal.
"What you throw out comes back to you," he said. "It is very simple. When I am nice to my neighbors, it makes their day."
He also shares his home with his cat, who he admits can be "horrible" but who he loves unconditionally. She brings out his sensitive side and helps him when he feels alone.
He realizes that he could be somewhere less positive, if he hadn't pushed for success. He says he could be in a wheelchair from his back issues or depressed and "messed up," but he's happy.
They closed by asking him about his experience working with Mission First and CPM, and he said, "If I had to grade my experience from 1-10. I would give it a 12."
With one more hug, now for the both of them, Joe told Heidi, "You did this. I know it is your job, but YOU did this. Heidi, I want you to be happy for me."
Joe just signed a new lease and will be with Mission First for another year, thanks to the Fund for Veterans program.
Posted Under: Stories