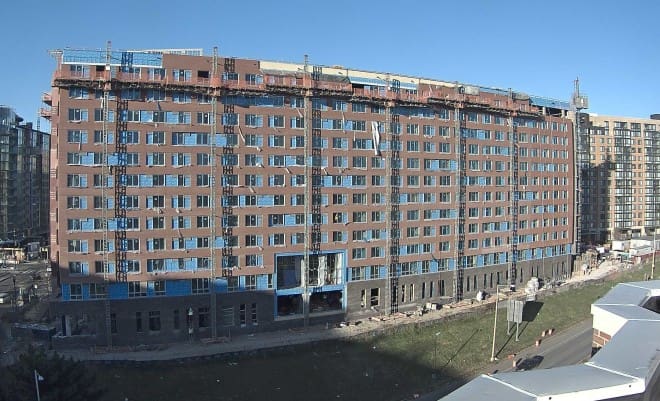 Update: Plaza West Development Moving Along
by Mission First Housing
Currently under construction in the Mount Vernon Triangle neighborhood of Northwest Washington, D.C., Plaza West is an innovative development that will provide 223 affordable apartments for individuals and families in need. Plaza West will address the need for safe, sustainable and affordable housing in an area that has recently seen rising rent prices and low vacancy rates. Fifty of the apartments will be set aside for grandfamilies, while the additional 173 apartments will target other families and individuals who make under 60% of the AMI (Area Median Income). 11 of those units will be set aside as permanent supportive housing for Department of Behavioral Health consumers.
The grandfamilies portion of the development is a unique housing response to a growing social challenge. Defined by the nonprofit Generations United as "families headed by grandparents and other relatives who share their homes with their grandchildren, nieces, nephews, and/or other related children," grandfamilies as a demographic pose particular housing needs and difficulties. Seniors may be supporting children mainly on social security or retirement savings while also juggling medical expenses, and the units themselves must be safe and well-proportioned for seniors and children of various ages.
The above factors, among others, contribute to these staggering statistics: approximately 15% of children living in the District of Columbia are not raised by a parent. In many cases, grandparents, great aunts and uncles, and foster families are raising children. In Washington, D.C., 60% of grandfamilies are renters and one third are below the poverty line.
Plaza West has been designed to meet the unique needs of seniors and children alike, with physical amenities such as a grandparents library, activity room for children and teenagers, fitness room, 12th floor flexible community space with expansive City views, and outdoor area including playground, landscaped patio, and seating areas. Additionally, Plaza West will offer considerable support services for its grandfamily residents through the Community Life Program, a comprehensive social services program that will provide case management, counseling and connections to services in the community, as well as a range of education, recreation and support programs for grandparents and the children they are raising. Residents of the 173 affordable apartments outside of the grandfamily units will benefit from services coordination provided by Mission First's Resident Services Department.
All residents will benefit from Plaza West's convenient location at the intersection of 4th and K Streets, NW. The location is well situated for access to bus lines and other forms of transit, and is near a variety of community based organizations and centers for enrichment including Dunbar High School, Walker Jones K-8 Education Campus, RH Terrell Recreation Center, The Northwest One Library, Perry School Community Services Center, Providence's Perry Health Center, and Brainfood: Youth Development Programs.
Plaza West is being developed with Golden Rule Plaza, Inc.-a subsidiary of Bible Way Church-and Henson Development Company.
Mission First broke ground for Plaza West in April 2016. Twenty months later, construction crews are currently completing the exterior masonry work, hanging drywall throughout the building, and installing cabinets, countertops, tubs, and sinks in units. The 12-story building is expected to open in mid-2018.
Click here to learn more about Plaza West and how to support the Community Life Program.
Posted Under: Uncategorized