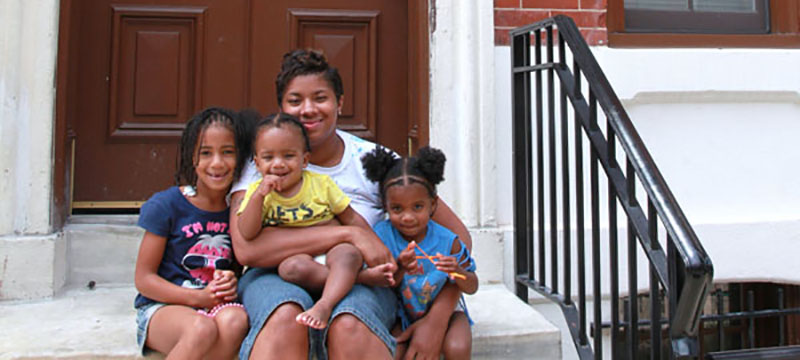 Our Family of Nonprofit Organizations
Mission First Housing Group is a family of affiliated nonprofit organizations; each nonprofit is incorporated as an independent entity. The affiliates include:
1260 Housing Development Corporation (1260 HDC) was founded in Philadelphia in 1988 to develop affordable housing for adults living with serious mental illness. Today the focus of this entity is to preserve its stock of affordable housing in the City of Philadelphia and provide housing services to the City.
Columbus Property Management (CPM) was founded in Philadelphia in 1993 to provide property management, including maintenance services, and construction services for properties developed by 1260 HDC. Today, CPM provides these services throughout Mission First's mid-Atlantic portfolio. Click here to visit CPM's website.
Mission First Housing Development Corporation (MFHDC) is a Washington, DC-based housing developer acquired by 1260 HDC in 2010. The acquisition of this affiliate expanded 1260's footprint outside of Philadelphia, added more than 1,100 units to its portfolio and significantly expanded the development pipeline. Today MFHDC is the development entity for all projects in the Mission First Housing Group portfolio.
ACHIEVEability, a wholly owned/controlled affiliate of Mission First since 2014, is a West Philadelphia-based nonprofit organization that works to break the generational cycle of poverty for low-income, single parent and homeless families through higher education, affordable housing, supportive services and community and economic development activities. This affiliation with Mission First allows ACHIEVEability to focus on expanding its Family Self-Sufficiency Program and community development activities, and creates a platform to bring ACHIEVEability's proven model for family self-sufficiency to more families in need throughout the region. Click here to visit ACHIEVEability's website.
Philadelphia Council for Community Advancement (PCCA) joined Mission First Housing Group in 2017. Founded in 1962, PCCA is is a regional non-profit housing and community economic development organization serving the five-county Philadelphia area whose mission is to strengthen households and communities by developing and preserving homeownership and affordable housing, educating disadvantaged populations to increase accessibility to economic opportunity. Click here to visit PCCA's website.
Making It Possible to End Homelessness (MIPH) was acquired by Mission First in 2016. MIPH manages 46 units of safe, affordable and permanent housing combined with on-site support services where residents can access the resources they need to increase health, independence and housing stability. Click here to learn more about MIPH.