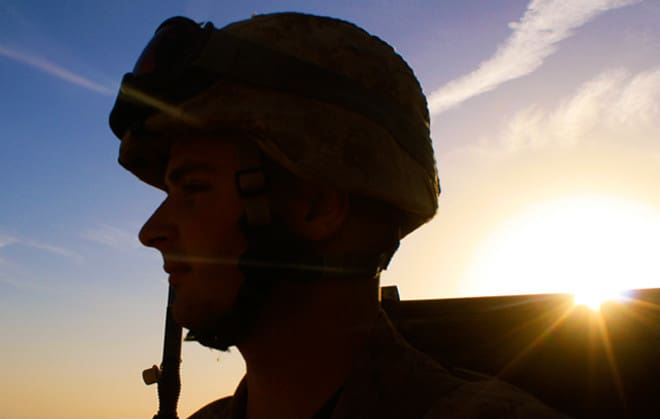 Support the Fund for Veterans
by Mission First Housing
Veteran Homelessness
The number of veterans experiencing homelessness in the United States has been cut nearly in half since 2010. Yet there are still far too many veterans struggling to find and keep a safe, affordable place to call home.
As of January 2016, there were nearly 40,000 veterans experiencing homelessness on a given night.
Did you know?
Many aging veterans have limited resources and are at an increased risk for homelessness.
The number of post 9/11 veterans is expected to grow considerably – to more than 3.3 million by 2023. Already this population is cost-burdened and struggling to find affordable housing.
One in five post-9/11 veterans is a woman. Women veterans are much more likely that non-veteran women to be homeless.
Mission First Housing Group is doing its part to eliminate homelessness among veterans.
Today, the Fund for Veterans provides rental assistance to 33 veterans so they can remain in quality, affordable housing. With your support, we can help more veterans in need.
Give to Fund for Veterans Click here to make your secure, online donation today.
Joe's Story
For many years, Joe, a U.S. Army veteran, struggled with health problems and employment instability, which made it very difficult for him to find and keep an affordable place to live. Working with the Philadelphia VA Medical Center, Joe was introduced to Mission First and the Fund for Veterans rental subsidy program. Joe was the first person to benefit from the Fund for Veterans. Joe has lived with Mission First for three years and he enjoys his community. He's even mentoring a few of the neighborhood kids – taking them under his wing and helping them to think about their future and set goals.
Click here to read Joe's full story.
Here's how the Fund works:
It costs an average of $7,800 a year to provide an affordable one-bedroom apartment to an individual in need.
While this is a critical level of subsidy needed by some in dire circumstances, often times, Mission First is called on to help by providing only partial subsidies. For example, Mission First might provide a veteran in need with:
Funds to make a security deposit.
A little extra support on a monthly basis to make a full rent payment.
Short-term support after resources from important public programs are exhausted before a veteran is back on their feet.
Mission First is committed to helping veterans in need, regardless of their situation. With your support, we can.
Give to Fund for Veterans Click here to make your secure, online donation today.
If you prefer to mail your contribution, please send your gift to:
Fund for Veterans
2042-48 Arch Street, 2nd floor
Philadelphia, PA 19103
100% of the money donated to the Fund goes directly to support veterans in need. All costs to administer the Fund are paid for by Mission First Housing Group.
Do you want to do more than make a donation? Here are some other great ways for you to help…
Introduce your friends, family and colleagues to the Fund for Veterans.
Help secure a matching gift from your employer.
Host a fundraising event and donate the proceeds to the Fund for Veterans.
Do you have ideas you'd like to discuss? Give us a call! We'd love to work with you. Contact Moira Rooney, Director of Strategic Investment, at (215) 557-8414 x3251.
Give to Fund for Veterans Click here to make your secure, online donation today. Your contribution to Mission First Housing Group is tax deductible to the extent permitted by law.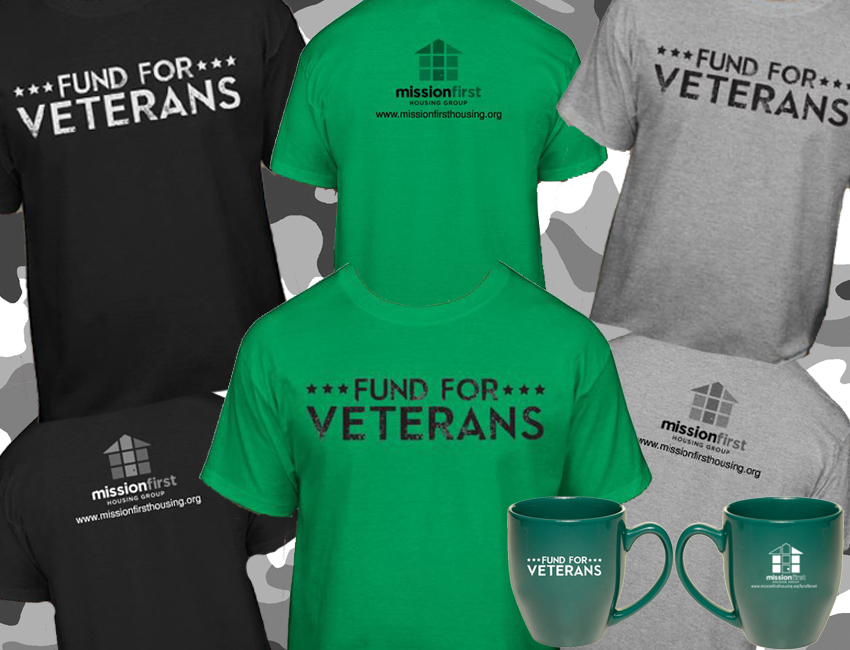 Click here to support the Fund for Veterans by purchasing a t-shirt or mug.

Posted Under: News