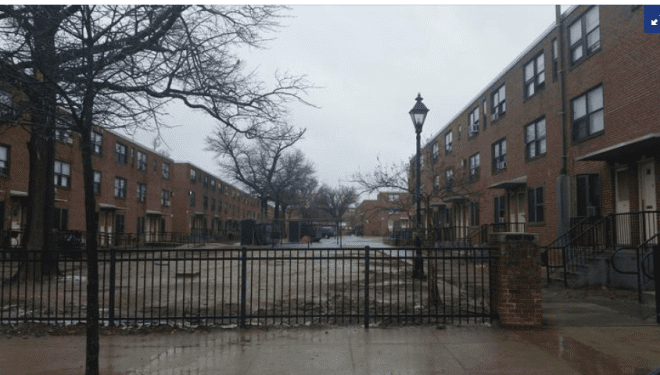 City to make 'special announcement' at Perkins Homes
by Mission First Housing
By Melody Simmons – Reporter, Baltimore Business Journal
Plans to raze and replace Perkins Homes as part of a nearly $1 billion redevelopment of East Baltimore could get a boost Thursday.
A "special announcement" has been set for Thursday at 11:30 a.m. at the East Baltimore public housing community at 1141 Gough St., city officials said. The city has been awaiting word on a $30 million federal grant application that would pay for demolition and new housing starts at the 629-unit Perkins Homes project.
Joe DeFelice, regional administrator for the U.S. Department of Housing and Urban Development based in Philadelphia, Mayor Catherine Pugh, City Housing Commissioner Michael Braverman and Housing Authority of Baltimore City Executive Director Janet Abrahams will attend the announcement.
Baltimore was named a finalist for a HUD Choice Neighborhoods grant in April, one of six cities to be highlighted under the competitive process.
The city's application said the funds would be used to remake the footprint of Perkins Homes as the first phase of a large-scale plan to redevelop about 200 acres of East Baltimore between Harbor East and Johns Hopkins Hospital. The public and private redevelopment is expected to cost more than $900 million.
HABC's grant application said the funds could "leverage more than $540 million in committed funding and investments from public, private and nonprofit partners." The project is being led by a team of private developers including Beatty Development, developer of Harbor Point, and St. Louis-based McCormack Baron Salazar. Others on the team include Cross Street Partners, Mission First Housing and Henson Development Co., founded and owned by former city housing commissioner Daniel P. Henson III.
Click here to read the full story.
Photo from Baltimore Business Journal
Posted Under: Mission First In The News